Product photos are important - Why clothing brands should invest in better image content
Visual storytelling with better product photos for clothing brands is the key to building trust, getting more sales & creating a strong brand identity.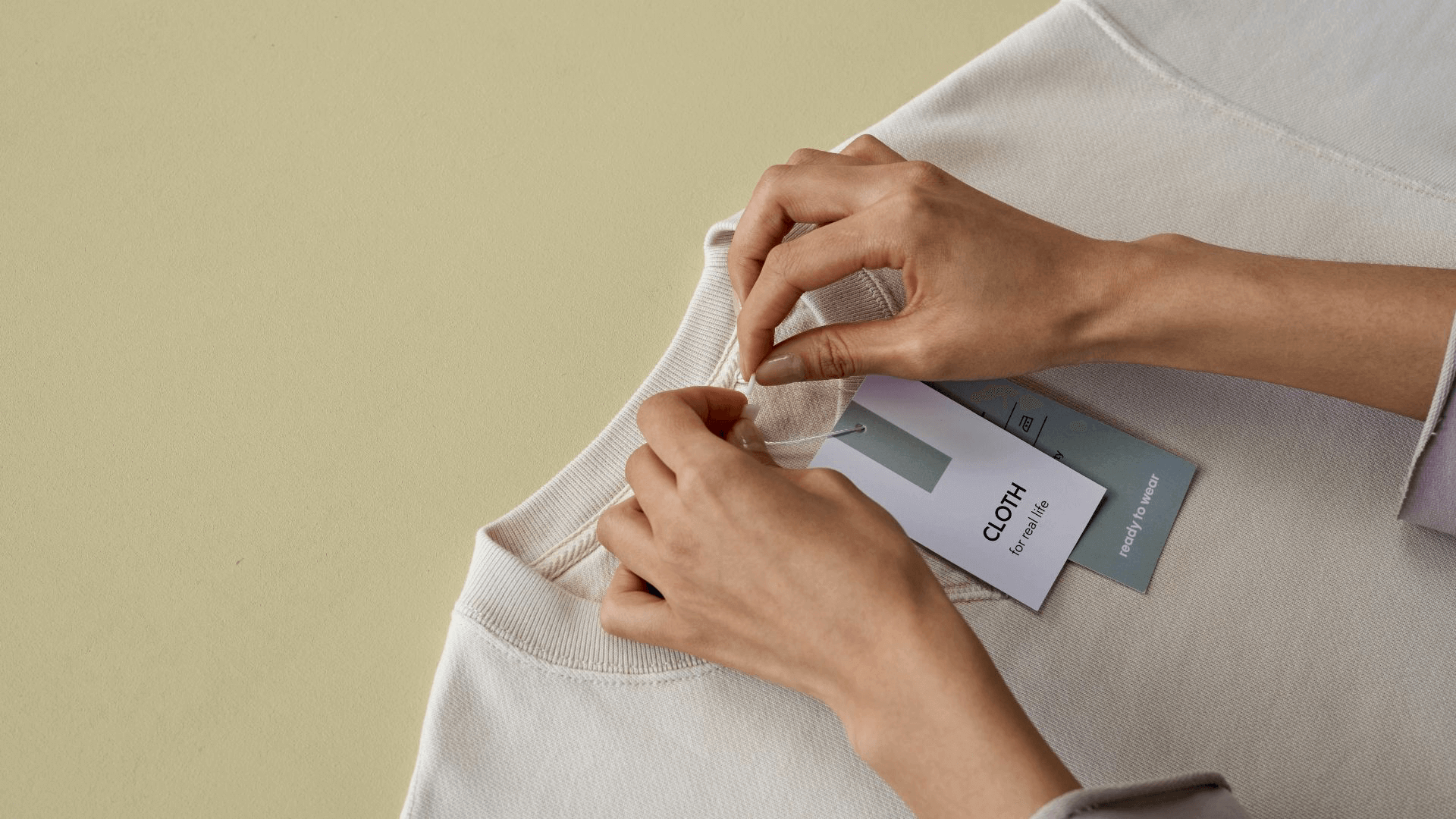 Marketers and photographers alike have been raving about the importance of having a distinctive brand identity. For clothing brands, in particular, product photos act as a catalyst for sales, inspiring trust and confidence. Sadly, that usually means no stock.
Photo and video content will make or break a clothing business. The reality is that there are over 24 million e-commerce websites in the world. If we take into consideration that the fashion e-commerce market is expected to reach $672 billion by 2023 and we can instantly spot exactly how big the potential is. However, we also understand that there is only one chance to give a memorable first impression.
Great brands tell great stories and score enviable sales in the process.
Types of photo content for clothing brands need in 2022 to build a unique brand identity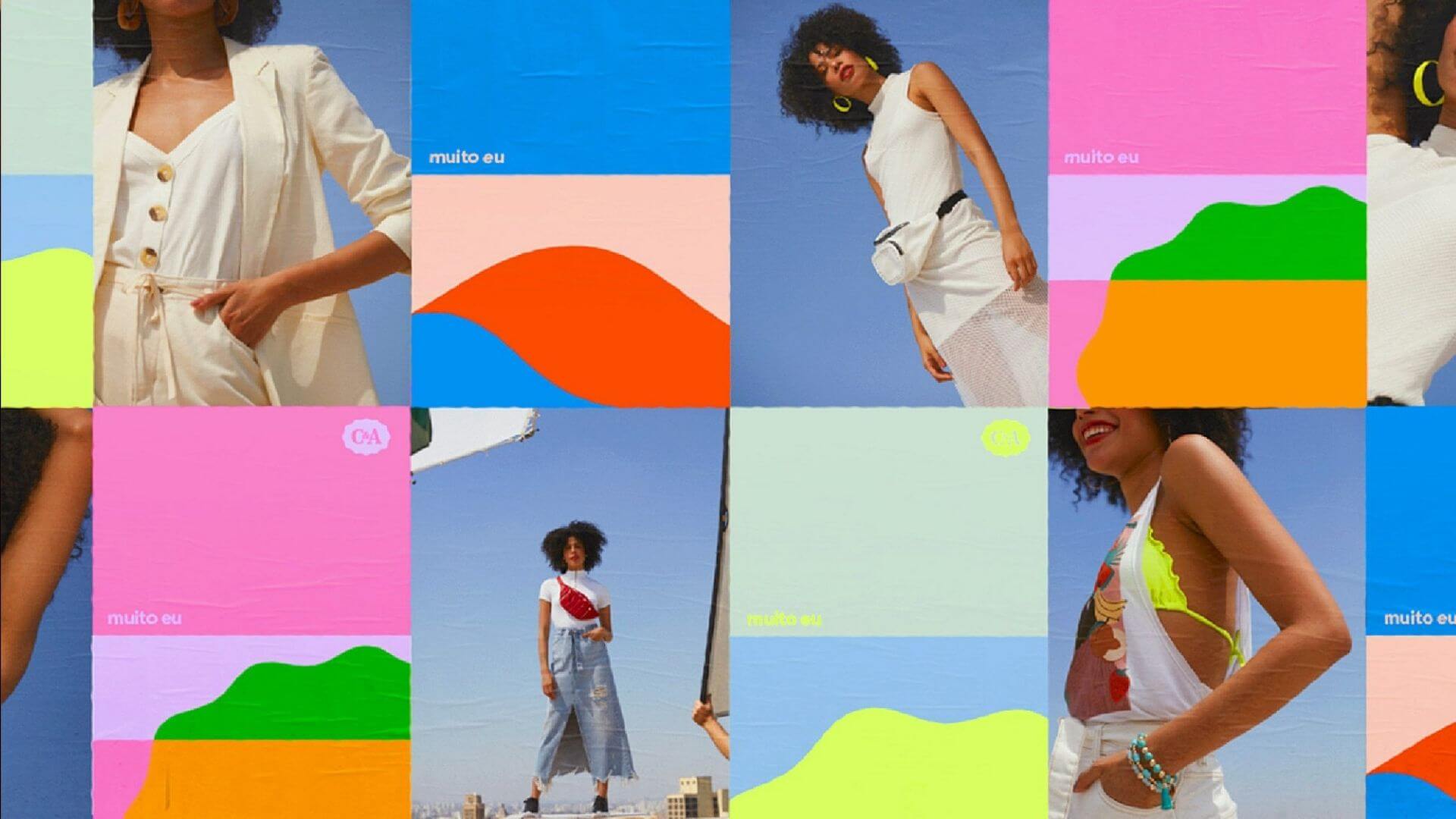 C&A Clothing Brand – Product Photography, Branding
Visual storytelling with high-quality photos
Captivating photography is every clothing brand's biggest ally. It has the power to create trust, consistent user experiences, enhance your future blog posts, adhere to your visual storytelling, and communicate your brand's aesthetic on your website or other medias. After all, no stock images can hint the quality of your product.
Take advantage of 3D Fashion Virtualisation
Let's take TSUM, the luxury goods department stores, for example. As soon as they swapped their standard product image on their website's catalogs with 3D images, they saw a 40% increase in conversions and sales. 3D product representations offer a never-seen-before ability for interactions. Customers can choose what part of the object they'd like to see with a few simple clicks.
Bring the fitting room to every customer's home with fashion AR
PWC estimates that virtual reality (VR) and augmented reality (AR) can bring net economic benefits of $1.5 trillion by 2030. In fact, interactive content generates conversions 70% of the time, compared with 36% for passive content. This technological innovation can take your brand identity to new heights, bridging the gap between real-life fitting rooms and virtual shopping. Customers can understand the exact fitting of a garment, try it on from the comfort of their own home and swap tackle their sizing struggles once and for all. Snapchat and Instagram are perfect example when it comes to AR products as we previously mentioned them in one of our articles.
Communicate more information in less time with video content
Did you know that 85% of customers feel more comfortable about buying after watching a product video? Clothing brands should invest in better image content - and that includes video as well. "Videos are processed by the brain 60,000 times faster than text. Think about the heavy lifting your cognitive system has to do when reading an article vs. watching a video clip!" mentioned Liraz Margalit Ph.D.
Having an array of beautiful videos at your disposal will make your social media content strategy a breeze. Followers get to see more of you and can keep track of your newest launches, activities, and deals as well as share your curated feed.
What are the benefits for clothing brands who decide to upgrade their product images?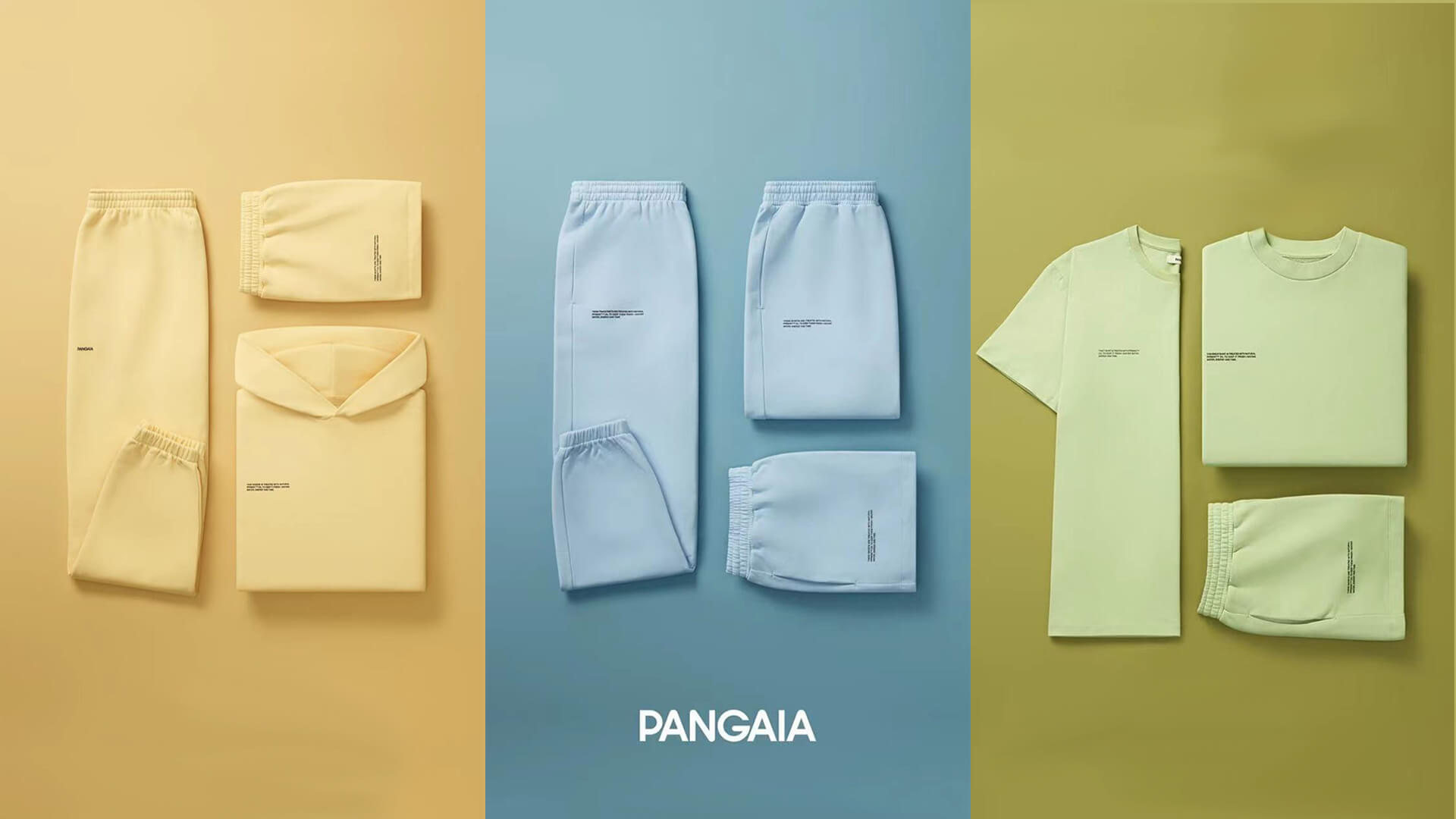 Pangaia Clothing Brand- eCommerce Store
No matter the type of content you choose, the importance of product photography clothing brands is immense. As they say, an image speaks a thousand words. But what are the benefits of product photography? Does stock photography make customers roll their eyes in frustration? Why storytelling should be the focus of your efforts? Let's get into it.
Tips for taking better product images for your clothing brand
Hiring an Influencer for candid fashion product images
Influencers have already established relationships, trust, and credibility with their audience. Most importantly, they know the right angles to make your products look absolutely amazing. Candid, real-life images are the best way to give customers an idea of how a product will look on them. Most of the time, influencers agree to take images in exchange for free products and a set compensation fee.
Hiring a professional studio within your product niche
If you have the means to hire a professional product photographer for your clothing brand, this would be the ideal choice to bring authenticity to your content. Niche-specific photographers know exactly how to take something beautiful and make it outstanding. With an artistic eye and a deep knowledge of what looks good and what doesn't, a professional studio can make your clothing shine.
If you pay by the hour, expect the service to cost anywhere from $100 to more than $300. At the end of the day, everything depends on your budget.
Hiring a freelancer within your product niche or similar
Just because they don't work at a studio, it doesn't mean that they lack talent or quality. These folks have a ton of experience working with different clients, a trained eye to understand exactly what works and plenty of examples to show you. Typically, they charge around $50-$150 per hour depending on the content, location, and needs.
Improve your product photography with free & paid courses and tutorials
  In 2022, there are many ways to DIY content and make your product images stand out from the crowd. Long gone are the days when in-person photography classes were required. Now, free and paid courses and tutorials from Instagram and Youtube can offer you all the knowledge you need. Platforms like Udemy and Skillshare are filled with in-depth courses on photography and editing from top industry experts.  
Clothing brands' Image content is as important as the products themselves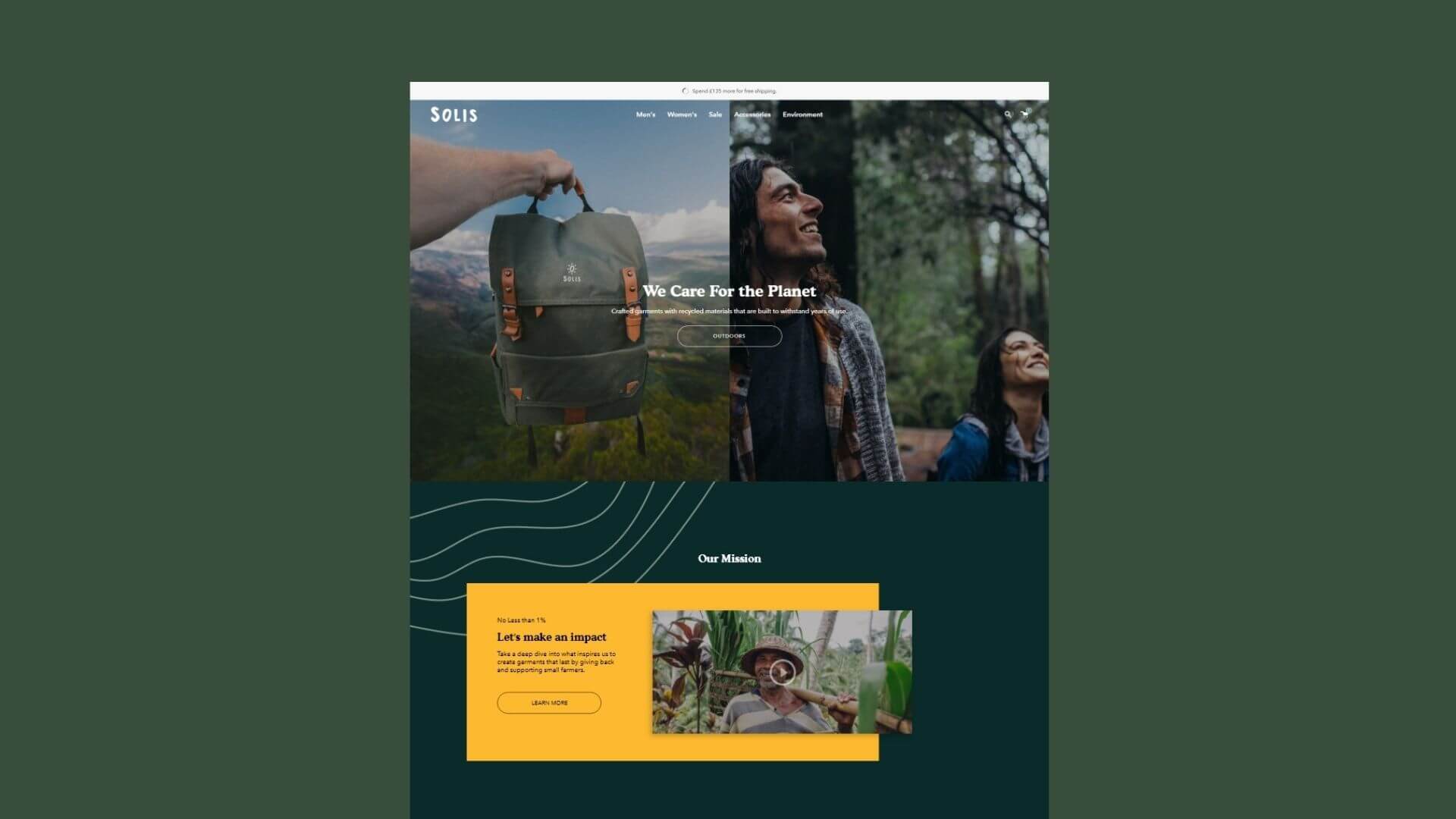 Solis Clothing Brand Website – Outdoor Product Photography
In the competitive world of e-commerce, clothing brands should invest in better image content to score sales, reinforce trust with their audience, and share a visual story for the whole world to see. No stock images are the best way to build and maintain a unique brand identity and target a specific audience that's looking for the exact products you are offering.
From images and 3D to AR and video content, the benefits of product photography certainly outweigh the time and costs. You want something beautiful, unique, and authentic; content that perfectly represents your brand and aesthetic.