How To Choose The Perfect Shopify Theme For Your Brand
There are many Shopify themes out there. From third party theme stores to official Shopify templates. Let's see which would be best for your eCommerce brand.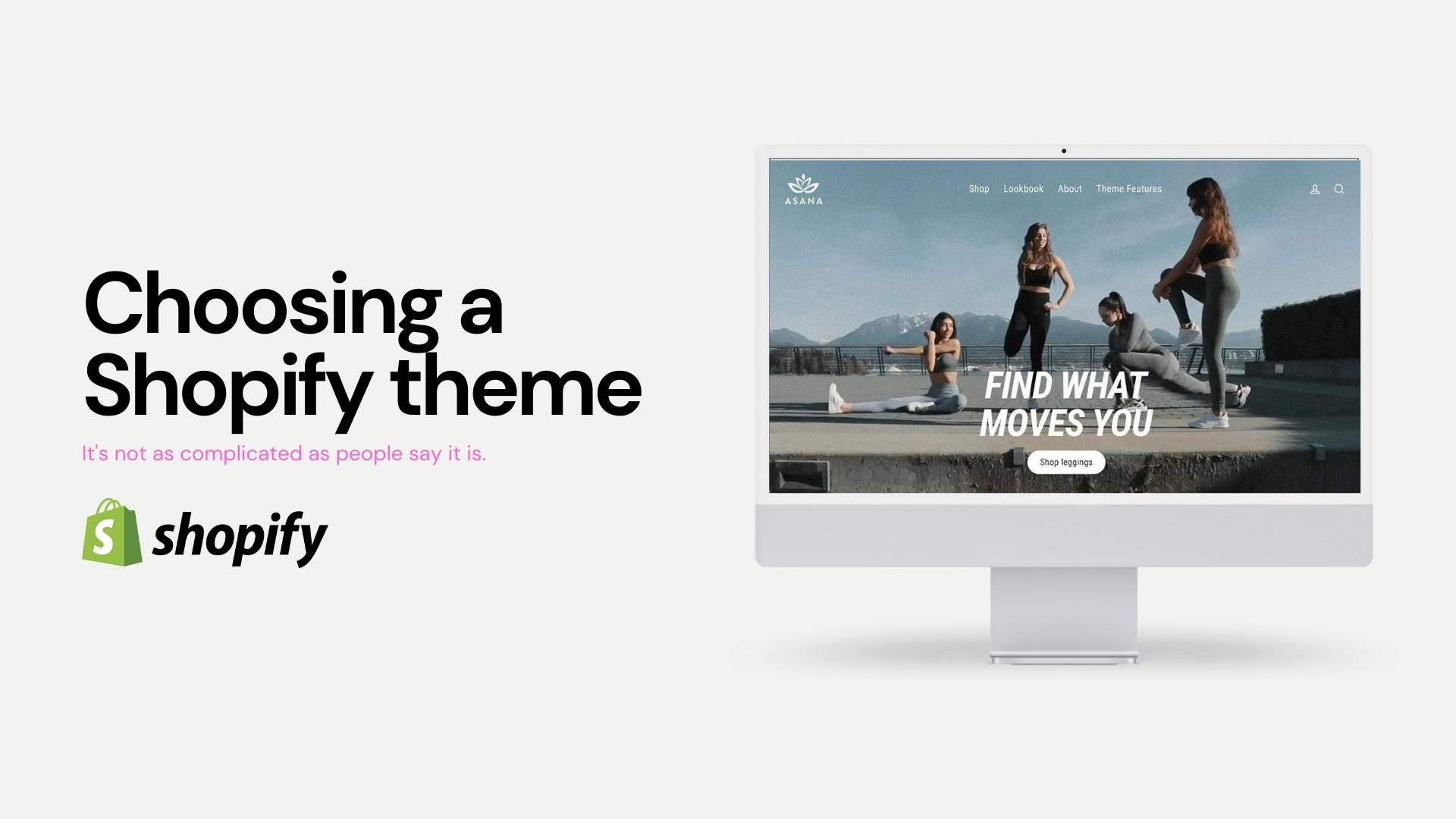 Choosing the perfect Shopify theme for your business can be a daunting task. With so many themes to choose from, how do you know which one is right for you? And once you find the right theme, how do you make sure it's set up correctly and looks great on your website?
In this article, the Saikai team will be walking you through the process of choosing and setting up a Shopify theme. We'll start by explaining what factors to consider when choosing a theme, and then we'll show you how to install and customize a theme.
Let's dive in!
What Is A Shopify Theme?
Shopify's themes are the foundations for an online store. They set the look and feel of your shop by determining how it looks, how it works, and what features are available.
Shopify has a number of free and premium themes to choose from. All themes are fully responsive, meaning they automatically adapt to any screen size. While customization options vary between themes, all Shopify themes have a built-in customization tool that allows you to change things like colors, fonts, and layout without needing to code (you still can if you'd like).
So, which Shopify theme is best?
As you've probably guessed by now, there isn't a straight answer to this question. Sure, there are Shopify themes that are objectively better than others, but the best Shopify theme depends on what you'll be using it for.
Don't worry, though. We'll be explaining how to find the perfect Shopify theme for your online business!
Where Can You Find The Best Shopify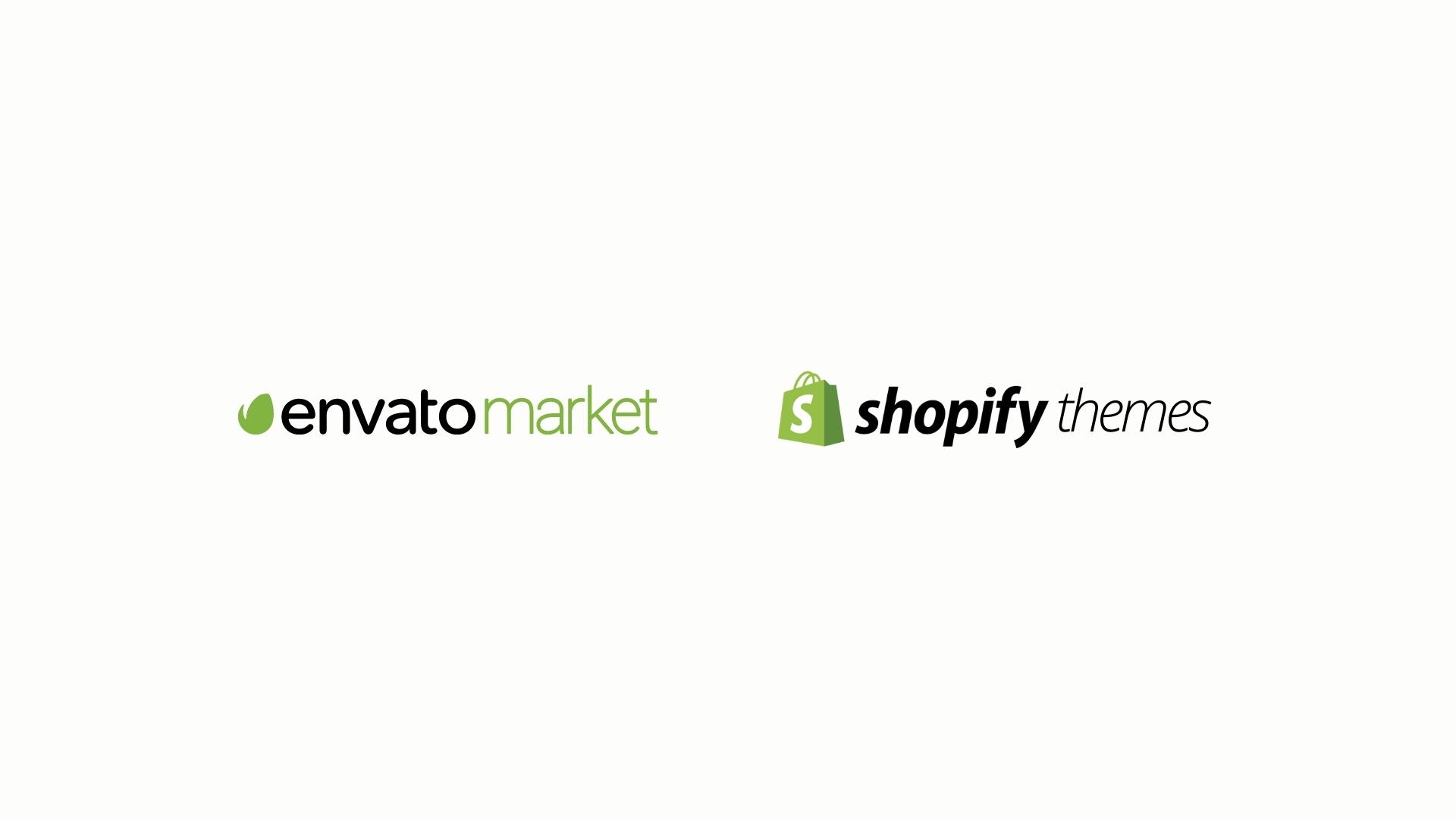 If you want to find a great Shopify theme, you need to know where to look. Below are some of the best places to find Shopify themes:
Shopify Theme Store: The Shopify Theme Store is the official repository for Shopify themes. Here, you'll find both free and paid themes created by independent developers as well as Shopify's own theme development team.
Themeforest: Themeforest is another large repository for premium Shopify themes. The theme library here is huge and the theme customization options are endless. Just keep in mind that with such an expansive selection, it may be difficult to find the high-quality options.
In short, there are many great places to find Shopify themes online. However, in our professional opinion, the Shopify Theme Store is your best bet. Not only does Shopify partner with talented developers to create many of them, but they also come with support guarantees you won't find elsewhere.
How To Choose The Right Shopify Theme For Your Online Business
Now that you know where to find high-quality Shopify themes, it's time to learn how to choose the right one for your online business. Here are a few factors to keep in mind while you're browsing:
Version
Keep in mind that Shopify themes are updated regularly to keep up with the latest trends and ensure optimal performance with the newest versions of Shopify. When choosing a theme, make sure to check that it's compatible with the current version of Shopify and that it will continue to be supported in the future.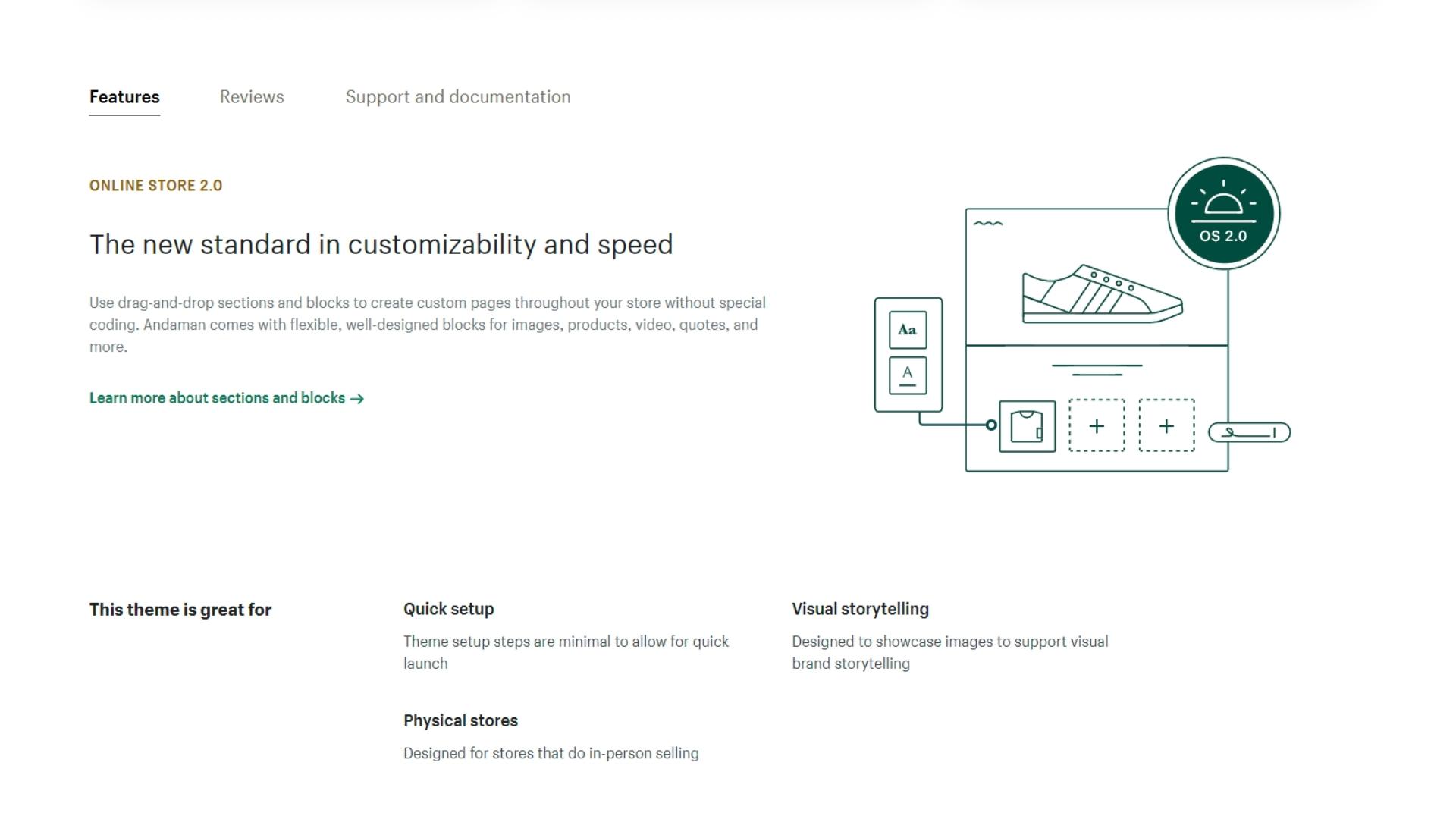 Currently, there are 76 themes that are compatible with Shopify's Online Store (OS) 2.0 — the latest version. We highly recommend choosing one of these themes. The benefits include:
more features
better load times
improved customization
Layout
The layout of your theme will determine how visitors interact with your shop. If you plan on selling physical goods, you'll want a theme with large product images and plenty of space for customer reviews and product descriptions. If you're selling digital products, on the other hand, you might want a more minimalistic layout that emphasizes your products' features.
Design
The design of your theme should reflect the overall aesthetic of your brand. Do you want a clean and modern look? Or are you going for something more vintage or rustic? Keep your target audience in mind while you're browsing and choose a design that appeals to them.
Features
Make sure to check out the features each theme offers before making your final decision. Some themes come with built-in features like sliders, social media integration, and drop-down menus while others require you to purchase or download additional apps. Consider which features are most important to you and make sure the theme you choose has them.
Industry
Many Shopify themes are designed with a specific industry in mind (e.g., health and beauty). You can see the industries for a given theme by looking at the "Great For" section of the theme's sales page.
If you're looking for an (almost) ready-built template, it might make sense to filter the theme results by your industry. However, the customization potential of Shopify themes means that you can take a theme designed for another industry and make it work for you.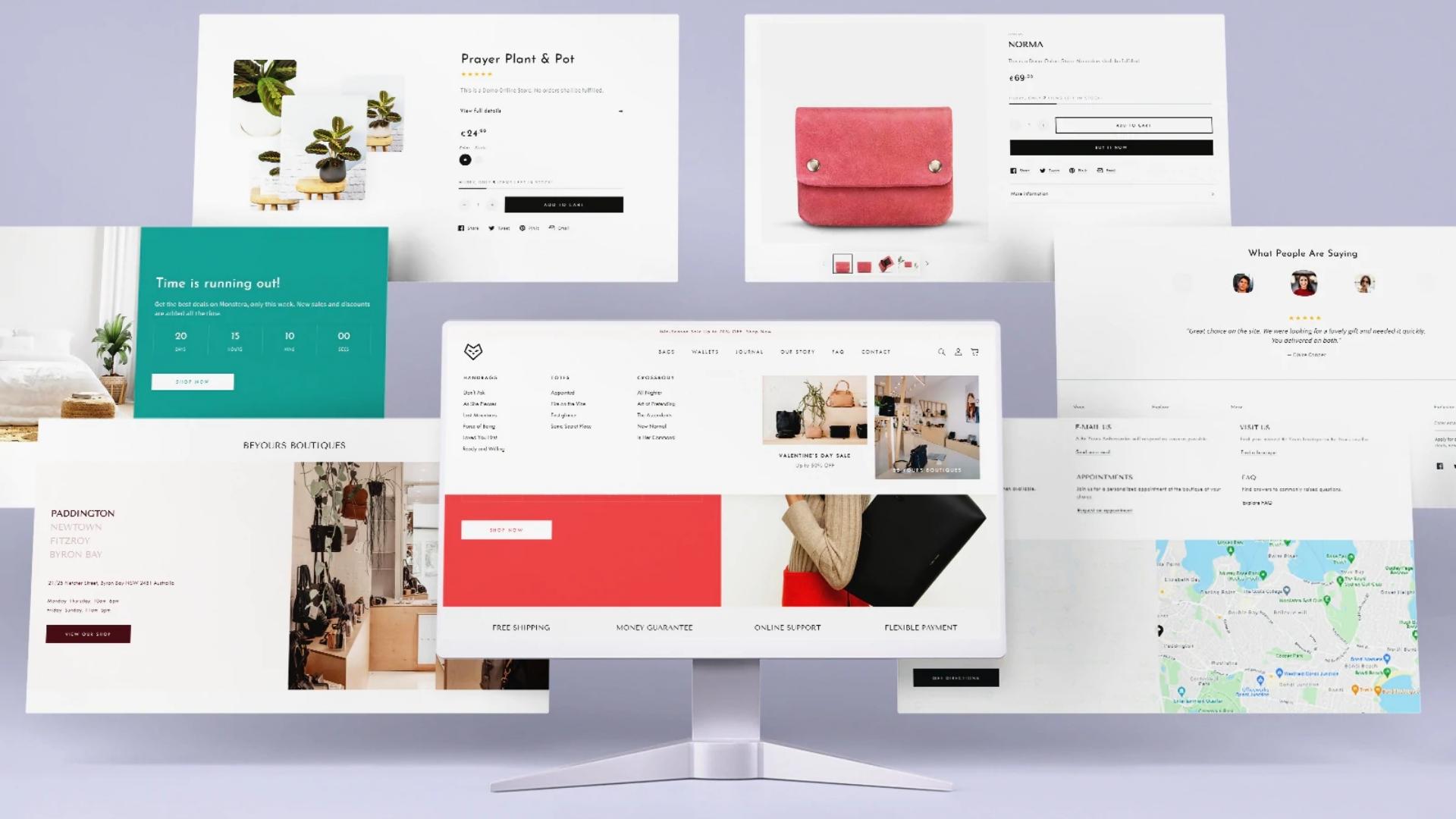 For example, the Be Yours Shopify theme was designed for online clothing stores. However, if you like the design and layout for your online skincare store, you could easily make it work!
Customization
All Shopify themes can be customized to some extent, but some offer more customization options than others. If you're not comfortable coding, look for a theme that offers all necessary sections that you might need for you project.
To do this, you'll just need to click the "Preview" button which every theme on the Shopify marketplace has and browse through every page to see if it covers all of your points. After purchase you can easily drag and drop each of the sections with absolutely no code.
What If Your Shopify Theme Is Missing Features?
Before we bring this article to a close, we'd like to briefly cover a question we hear pretty frequently: what should I do if I like a theme but need a few additional features?
If that sounds like you, there's good news! You have three main options, including:
1) Find a Plug-In
Plugins are small programs that add additional functionality to Shopify themes. If you need a feature that's not included in your theme, there's a good chance you can find a plugin to fill the gap. Plugins are created by Shopify and third-party developers, so there's a wide variety of options to choose from.
To install a plugin, just head over to the Shopify App Store and search for the plugin you need. Once you've found it, click on the "Install" button and follow the on-screen instructions. We have to note that some plugins are free while others have monthly fees.
2) Code the Feature In-House
If you're comfortable coding, and you want more control over how your shop looks and functions, then coding a feature in-house might be the way to go. This option gives you the most flexibility and lets you tailor the feature to your specific needs.
To get started, take a look at the Shopify's Learning Liquid guide. Liquid is a template language that forms the basis of all Shopify themes and features. If you've coded in Ruby, it'll look pretty familiar!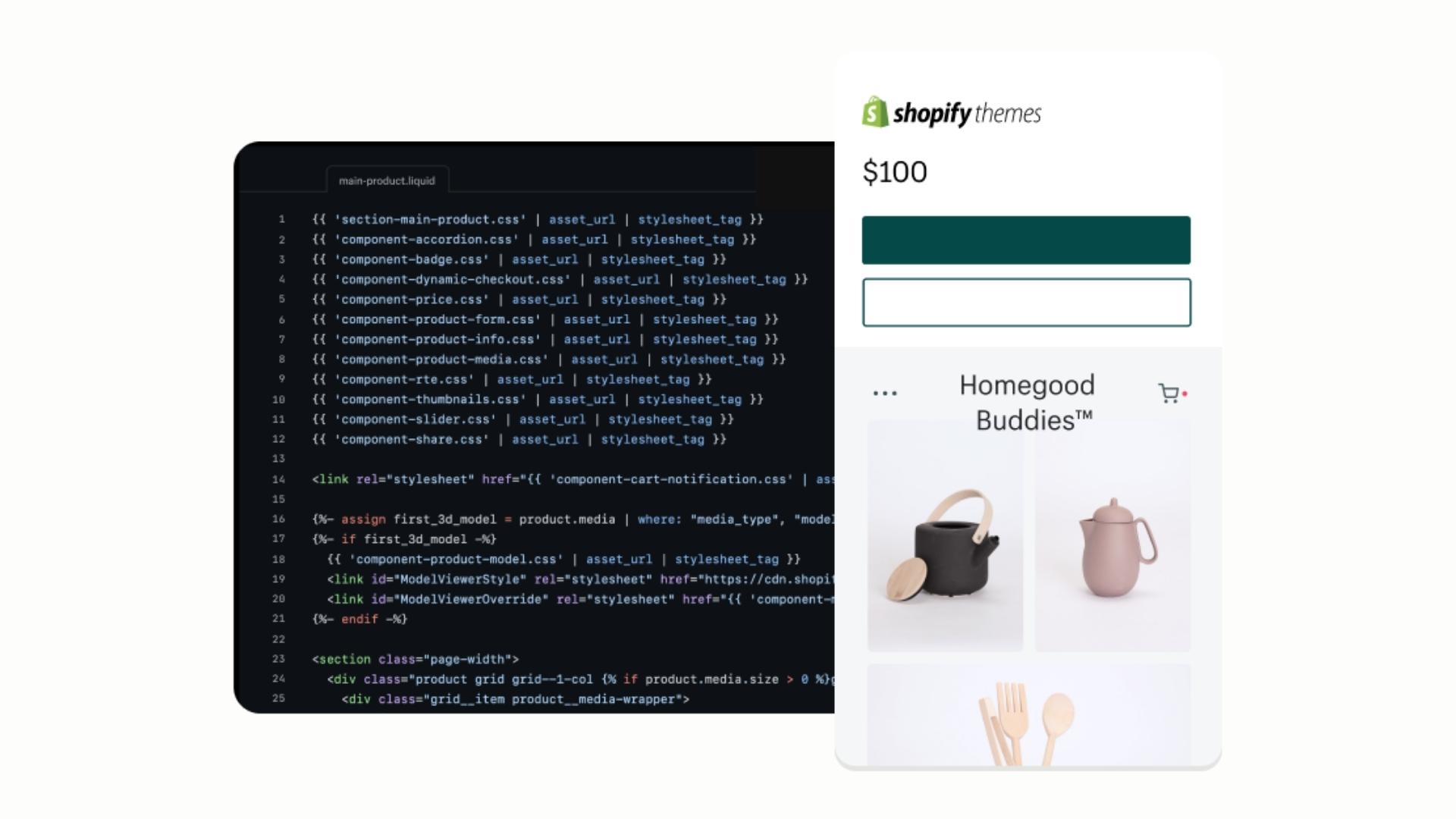 Once you've familiarized yourself with the basics, start playing around with the code. And if you get to a dead end, don't hesitate to ask for help in the Shopify Forums or on Stack Overflow.
3) Hire a Freelancer or Agency
If you're not comfortable coding yourself and plugins aren't cutting it, your other option is to hire a freelance developer or agency. Boasting years of experience with Shopify, these experts can create custom features and designs for your store. They can also help you redesign a theme or make major code changes to better suit your needs.
If you're looking for cheaper professional help, freelancers are a great option. You can search for a good match on freelancing sites like Fiverr or Upwork.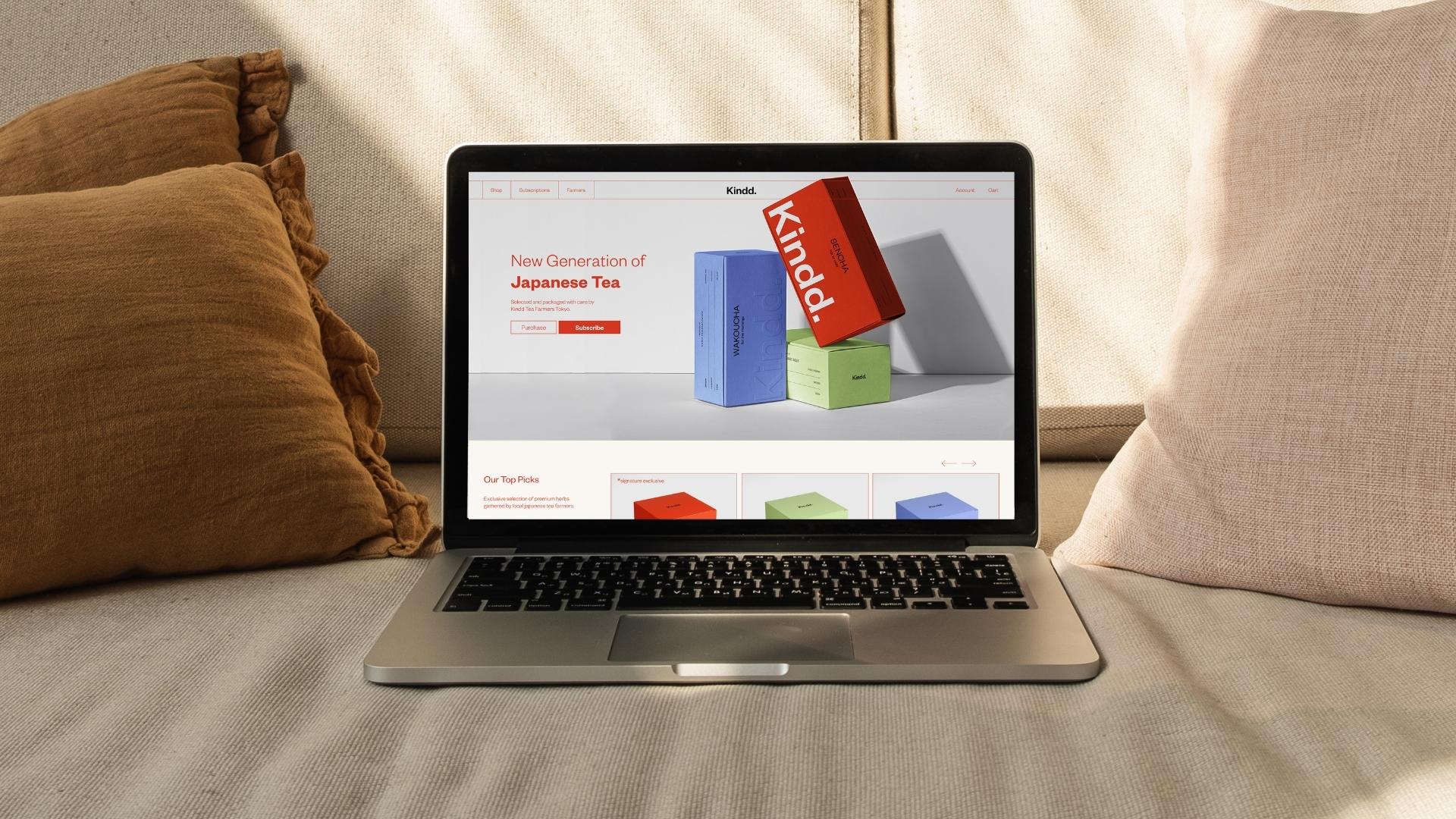 Kindd Tea Website designed by Saikai.
However, you get what you pay for with web design. Agencies may be a bit more expensive (on average), but they'll be able to handle the entire process from start to finish—design, coding, and custom features.
Bottom Line
No matter what kind of online business you're running, we hope this guide has helped you find the perfect Shopify theme! If you're still not sure which theme is right for you, feel free to reach out to our team of experts for assistance!