9 product subscription website design examples from health & wellness brands
Get inspired by the best eCommerce product subscription examples to start your health & wellness monthly box delivery in 2022.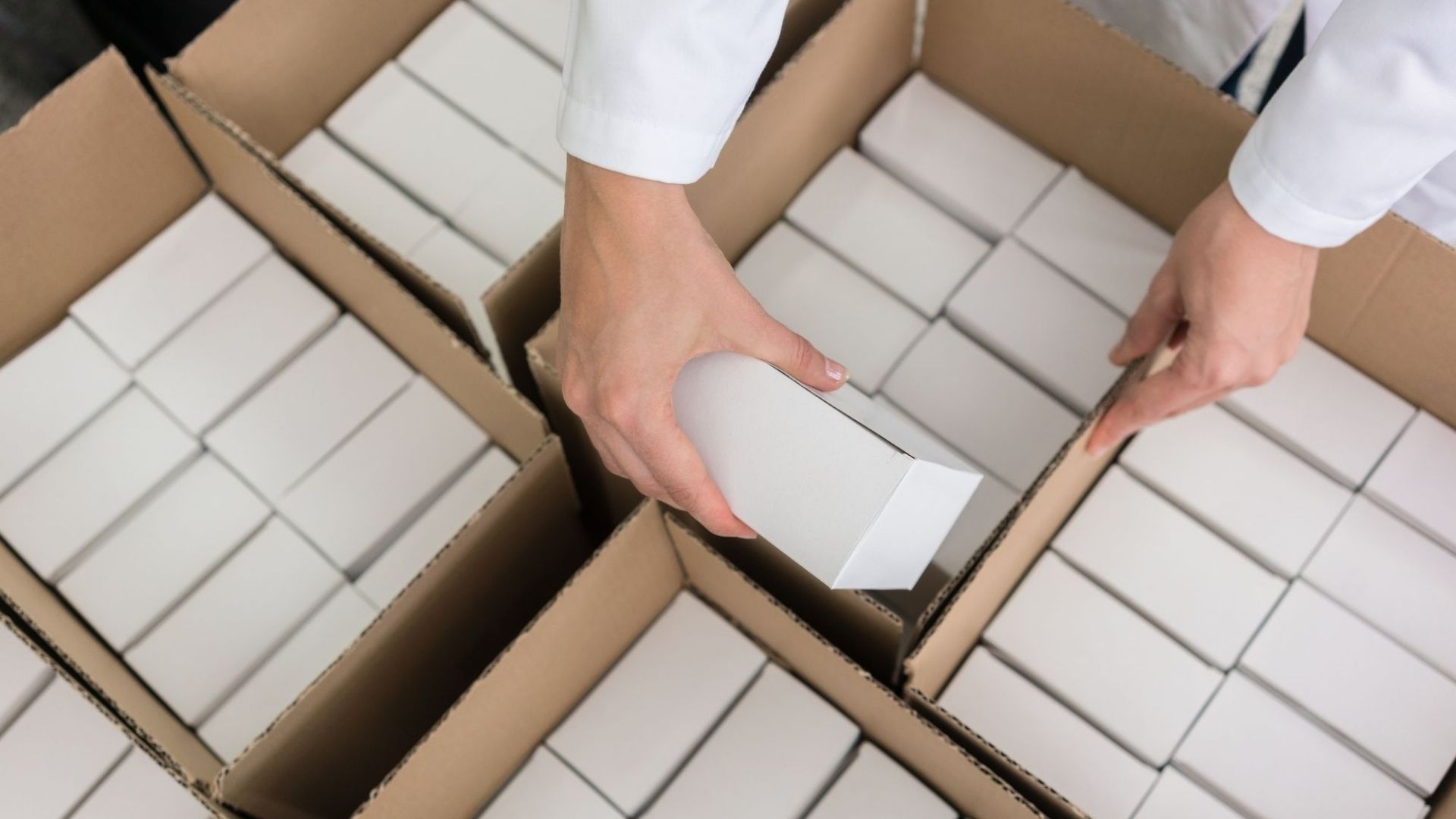 2022 is the quintessential time to start an eCommerce subscription business or, better yet, add subscription services to your online store. Don't dwell on it! You don't have to explore the uncharted waters all on your own. There are plenty of eCommerce wellness subscription examples to draw inspiration from.
Seems like the entire health and wellness sphere has been totally smitten with this business model. If we take a quick look at the stats, we'll quickly realize that the health and wellness industry experienced a whopping monthly recurring revenue increase of 138% in 2021. In fact, the number of customers that decide to sign up for eCommerce subscription services has grown 90% percent year on year since 2016 according to Recharge's 2022 report.
What are eCommerce product subscriptions?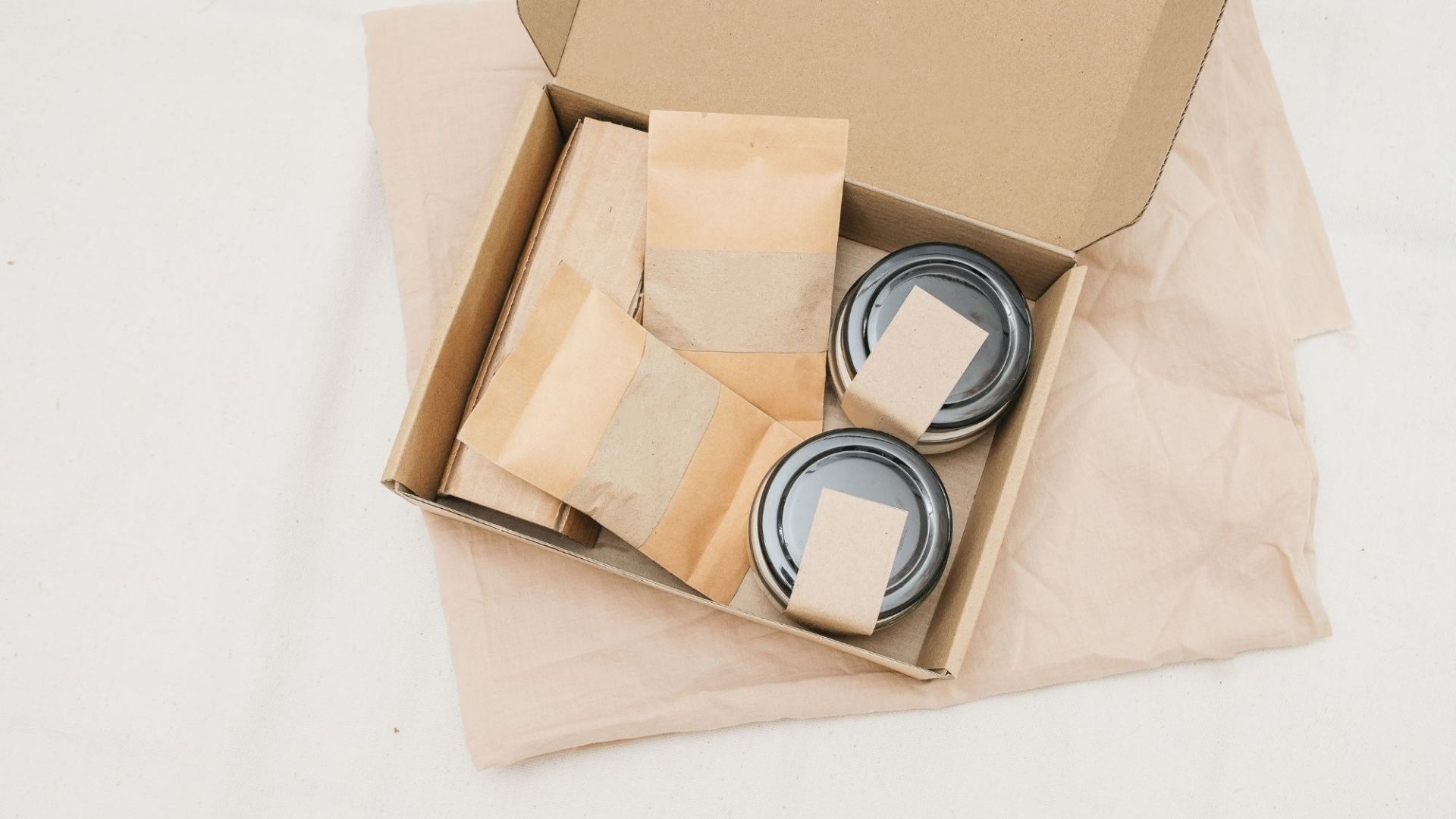 To put it simply, subscription-based eCommerce is a popular business strategy that offers customers the opportunity to get their favorite products on an ongoing basis. The end goal is to make one-time customers come back for more by increasing your ability to retain them via a highly successful business model that adds value, trust, and, consequently, brings more sales.
The best eCommerce wellness subscription examples are here to prove that the average order value can increase by 11% thanks to subscription-based eCommerce.
The benefits of adding an eCommerce product subscription service for health and wellness brands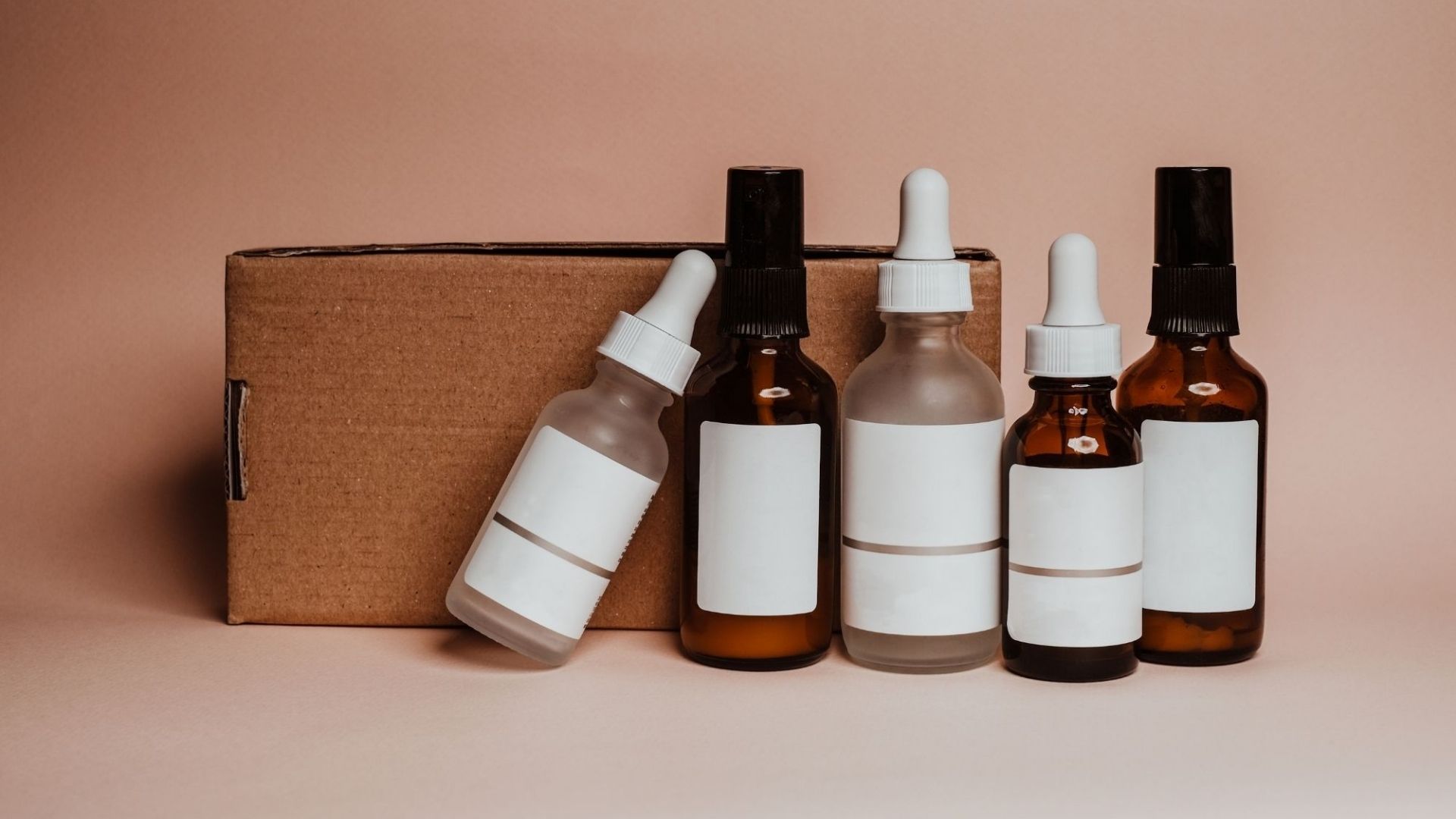 Keep in mind reports estimate the global wellness market at more than $1.5 trillion, with annual growth of 5 to 10 percent. Health and fitness are on the rise like never before. In fact, it's the second-largest industry after food and beverage. So it goes without saying that the reasons to start an eCommerce subscription business for wellness and health are many.
Use the statistics from recharge payments. By adding an e-commerce subscription model to your business, you will get a clear picture of which products really resonate with your customers. Why are eCommerce data so important? It's all about customer retention and lifetime value. You can spot the total net sales, average charge value and adapt your promo strategies accordingly.
Increase your retention rate and sales. eCommerce wellness subscription will help you upsell or cross-sell while also keeping your customer's interest high. Statistics show that businesses manage to have up to 42% overall subscription retention after 1 year
Score a steady revenue flow. ECommerce subscription services for health and wellness are predictable. You can monitor your inventory, eliminate the uncertainty that comes with trying to attract new clients constantly, as well as have a clear picture of the total turnover of each month.
eCommerce wellness product subscription examples
Product subscription process examples:
Gleamin's easy 3 step process is one of the best e-commerce subscription examples for wellness through Shopify. It's pretty simple. Customers have to select the product and add it to the cart. Proceed to choose the frequency (deliveries every one month, two or three months), and then checkout with a great 15% off discount (€31,40 from the original price of €36,95)! The brand offers SMS routine reminders, hassle-free shipping, and the ability to modify or cancel the subscription anytime. The overall design is clean, minimal and to the point!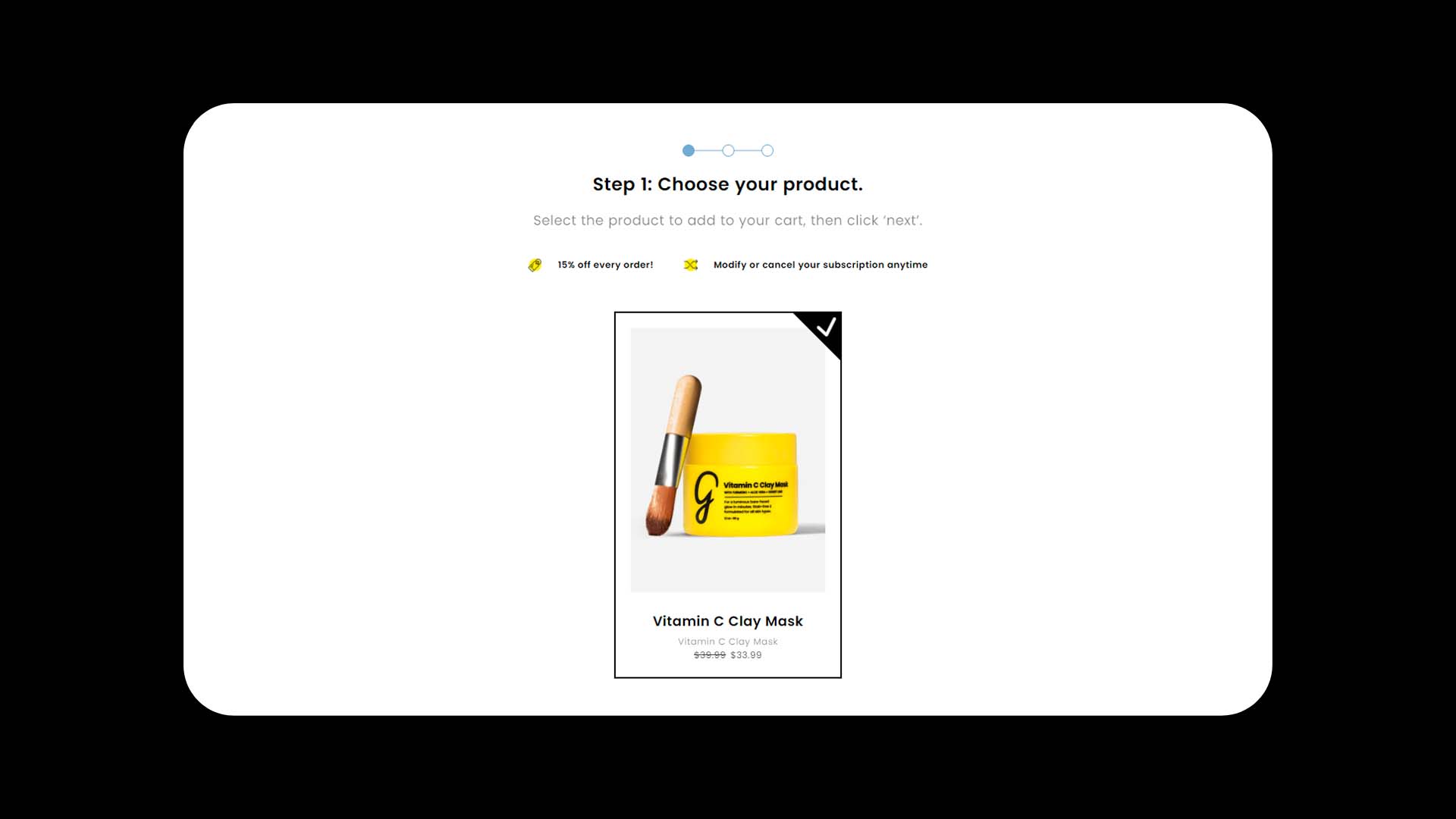 Gleamin skincare subscription page design
Seed is another successful addition to the list of the best eCommerce product subscriptions examples. Their e-store offers only one superhero product for $49.99 through their striking, custom-coded website. The process is pretty straightforward; a direct checkout to kick start the subscription. Right before customers e-swipe their cards, a complimentary glass travel vial is added to their cart for free. Once customers get their welcome kit on the first month, the second month is all about refills (30 Day Supply). Seed makes it clear that you can skip or cancel any time.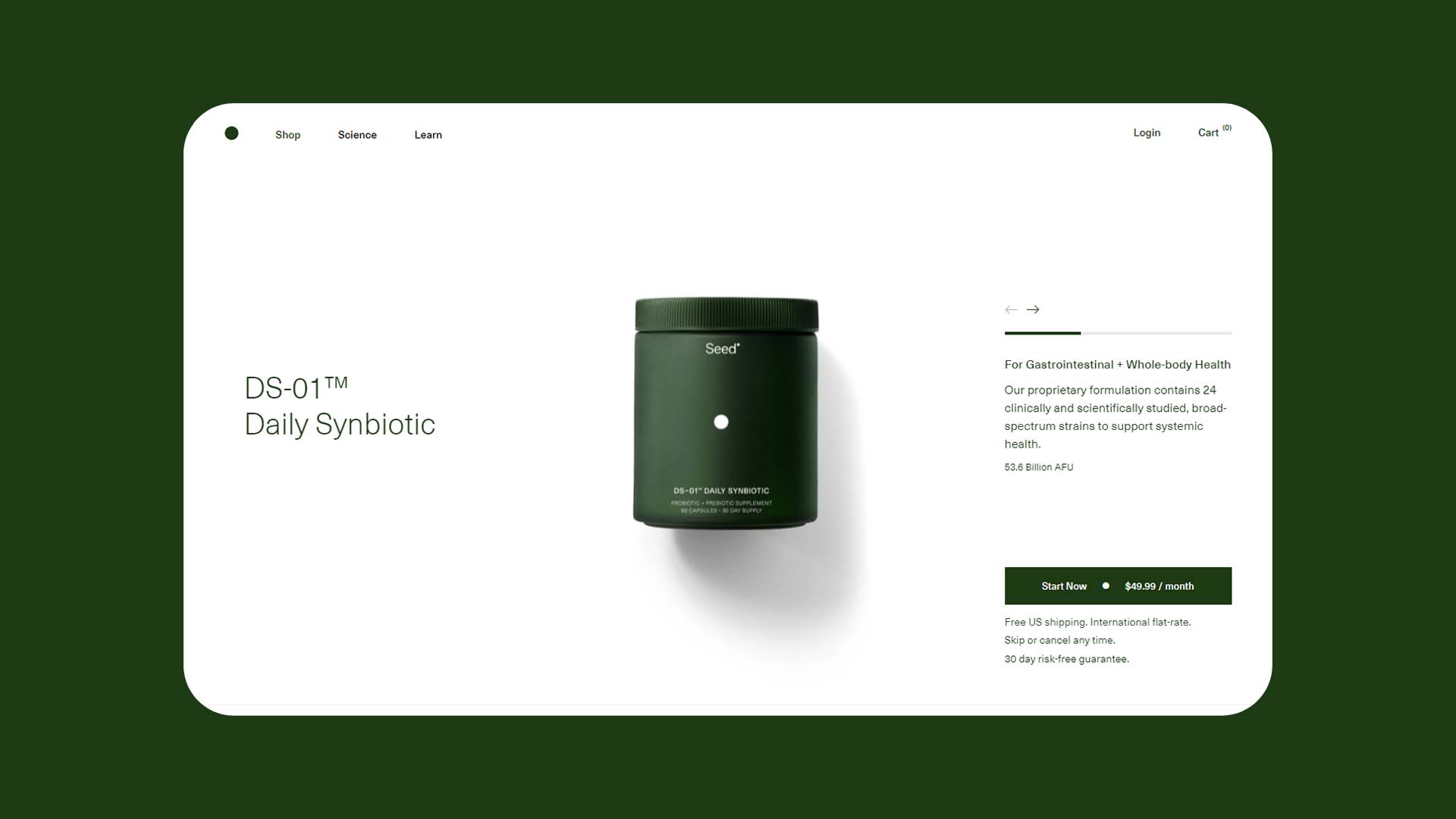 Seed health supplement subscription page design
Amongst the many eCommerce wellness subscription examples, the Shopify store Bite Toothpaste Bits stands out. When customers decide to opt for their first and only plastic-free teeth whitening system, the brand offers a discount ($20 from the original price of $24). Customers can choose between two products, add them to their cart, and every 4 months the brand will ship them a refill with the ability to adjust, postpone, or cancel your subscription at any time.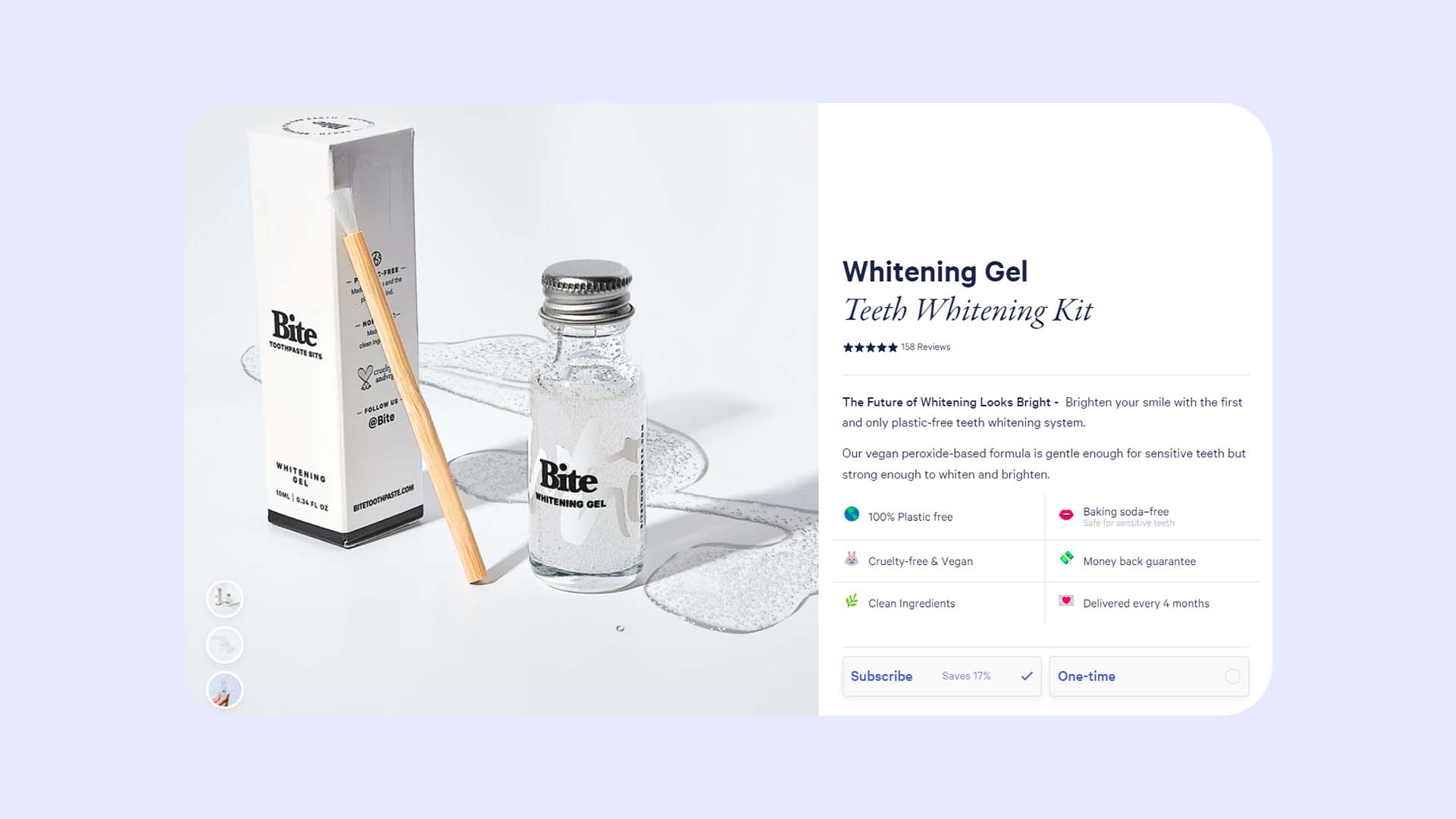 Bite whitening gel subscription page design
With a jargon-busting, 1 page sign-up process. Chapter 20 Care redirects you to a single page on their custom-coded website with no descriptions and flashy presentations. Customers can choose the volume of products (3,6 or 9 bottles) starting from $40/month and checkout with a 20% discount. Just like their products, the website feels fresh and cleanly designed.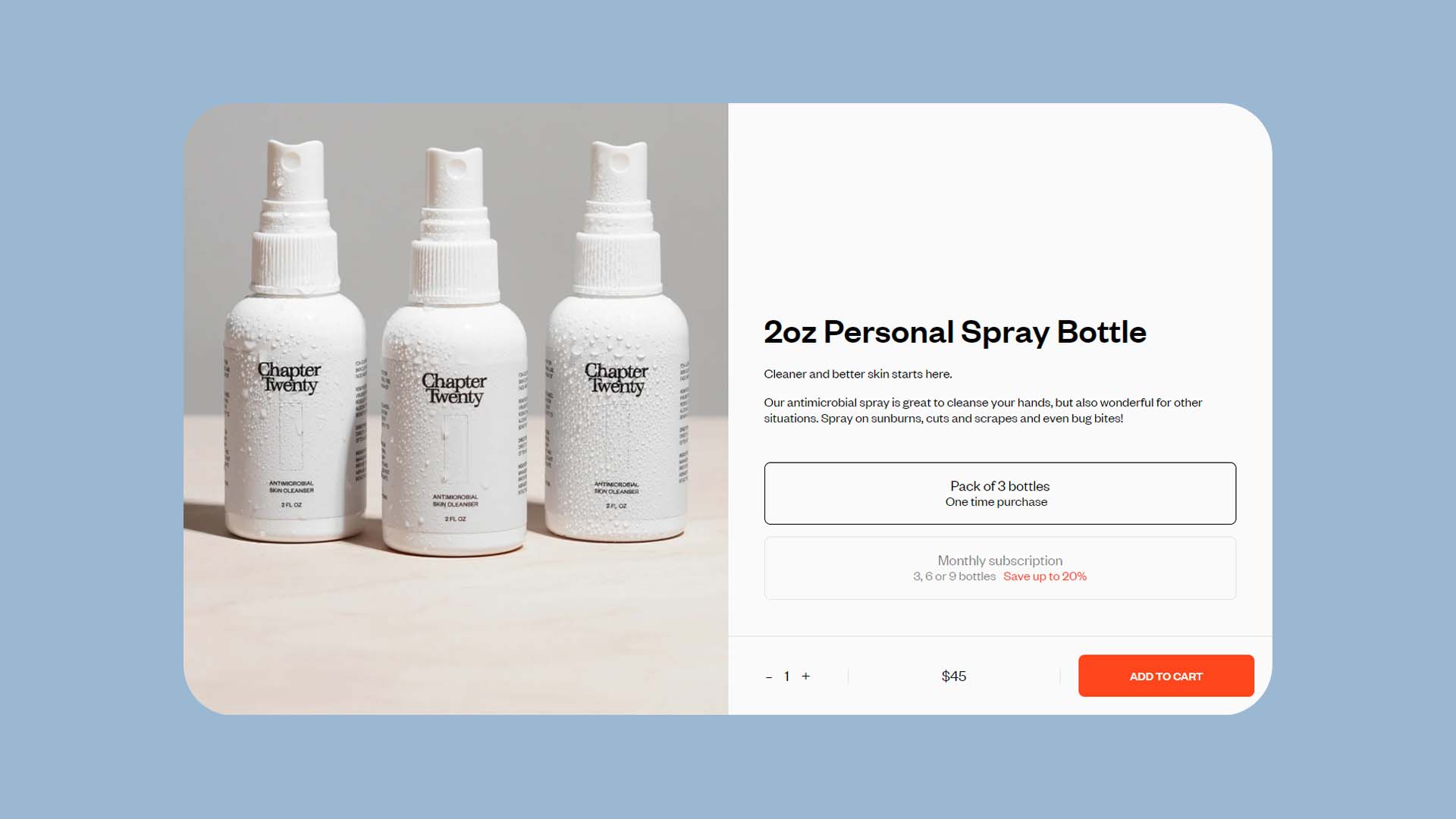 Chapter 20 Care skincare product subscription page design
Another eCommerce subscription service for health and wellness example done right is Hume Supernatural. Across the entire website, we can spot their bohemian-inspired aesthetic through the use of light and welcoming colors. It's all about plant-based, natural power over there. Their dedicated Shopify page is packed with all the subscription-related info you will need to make an informed decision. Customers have 3 bundles to choose from $22.49. Additionally, they can adjust the frequency of the delivery and save 15%.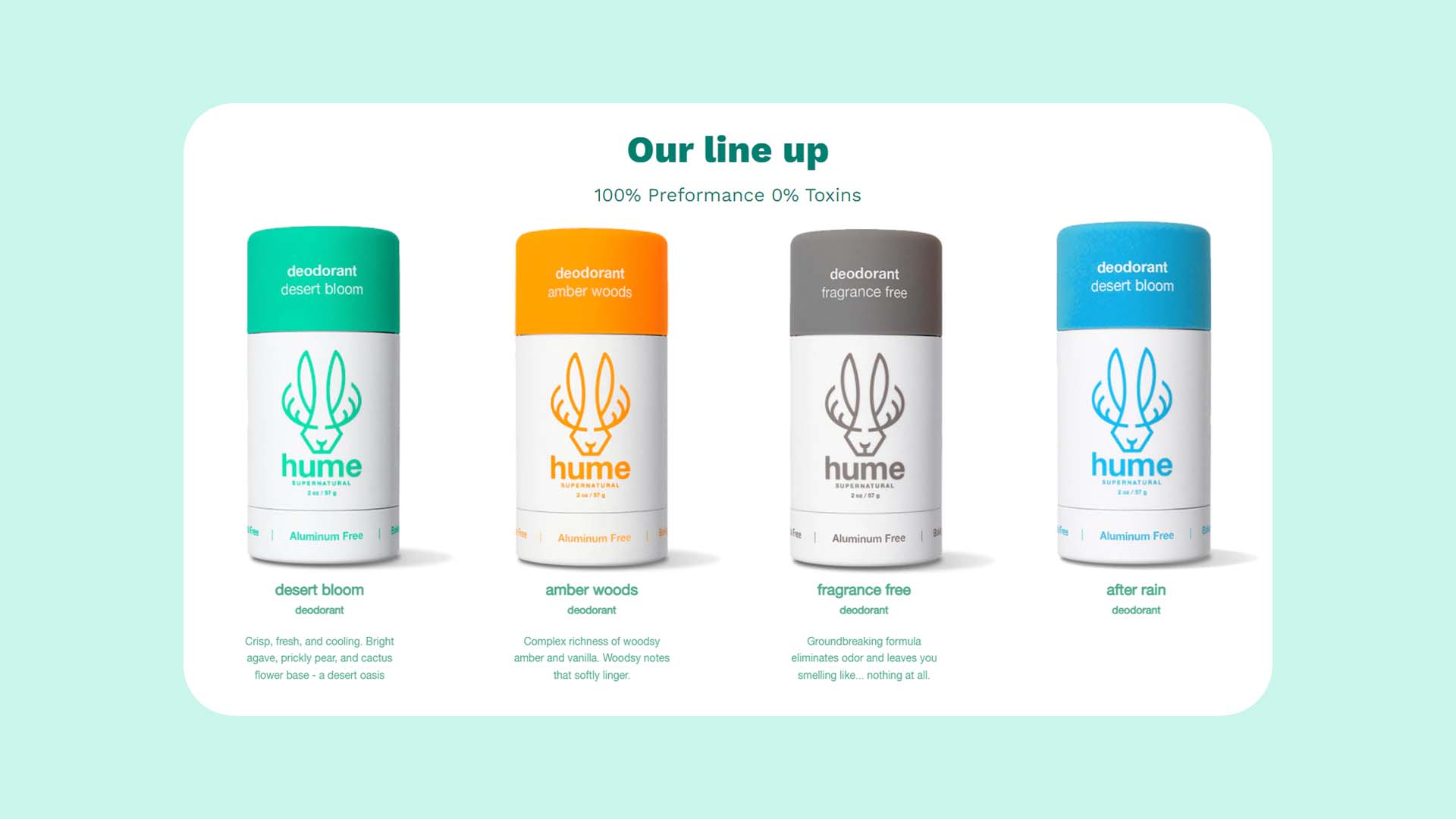 Hume Supernatural deodorant product subscription page design
When it comes to the best eCommerce wellness subscription examples, 3-click processes are, evidently, very popular. The brand has a youthful, upbeat vibe that certainly doesn't go unnoticed. Kencko offers customers the ability to choose a flexible subscription plan (+ free shipping), their preferred box size, delivery dates and let Kencko do all the work. The prices vary depending on the volume of each order. Their Shopify store also makes the pausing and cancelling process a breeze.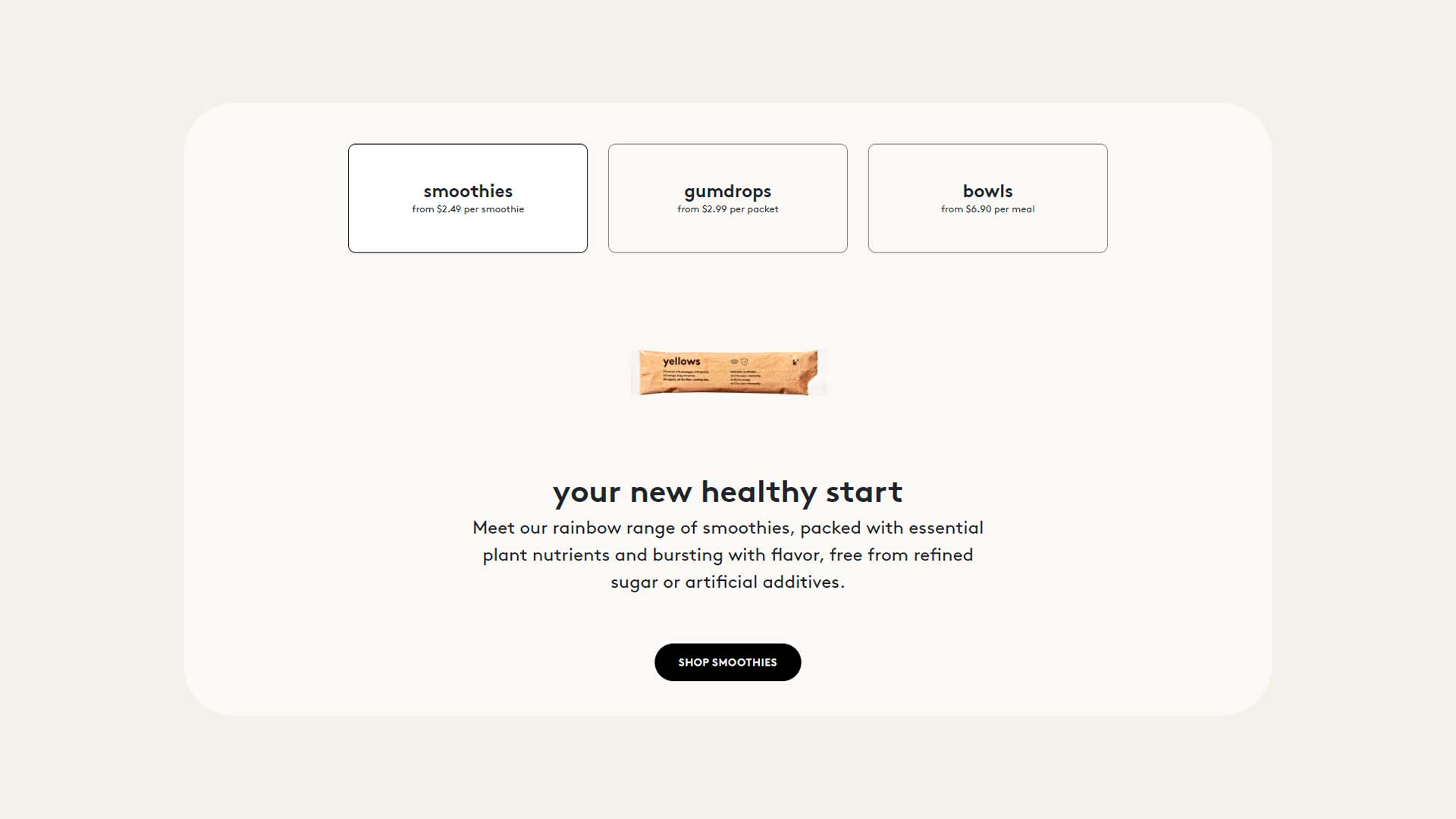 Kencko monthly food box customization page design
More eCommerce wellness product subscriptions examples worth mentioning
Beam offers 20% off every month + free shipping to attract even more customers to subscribe. With flexible monthly delivery dates and the ability to swap products anytime, and easy cancelations, the Shopify store design surely knows how to navigate the eCommerce subscription business. Their aesthetic is pretty minimal and usually lets the products do all the talking on their behalf. However, we can get a pretty good idea of their overall brand image by looking at their color of choice, blue, which often translates to intuition, inspiration, and sensitivity.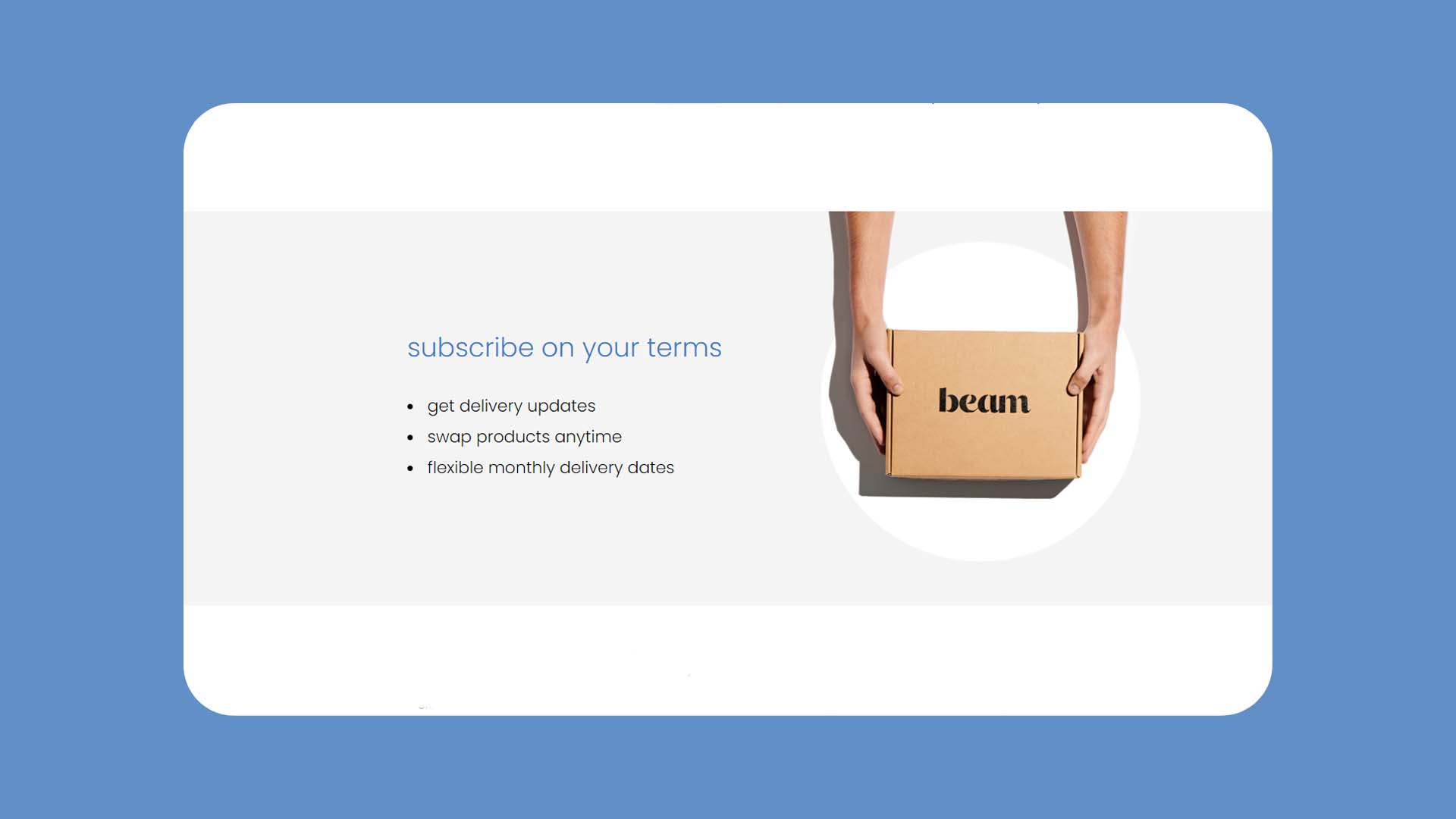 Beam CBD and THC supplement product subscription page design
Another great example of eCommerce subscription services for health and wellness is Sandland. The store sums up everything there is to know about their coveted products in one page. Customer can choose their favorite pack starting from $20, the frequency of the delivery, and enjoy a $16 discount. Their custom-coded website looks refreshingly colorful and eye-catching thanks to the bright hues that instantly feel energizing and heighten the attention span.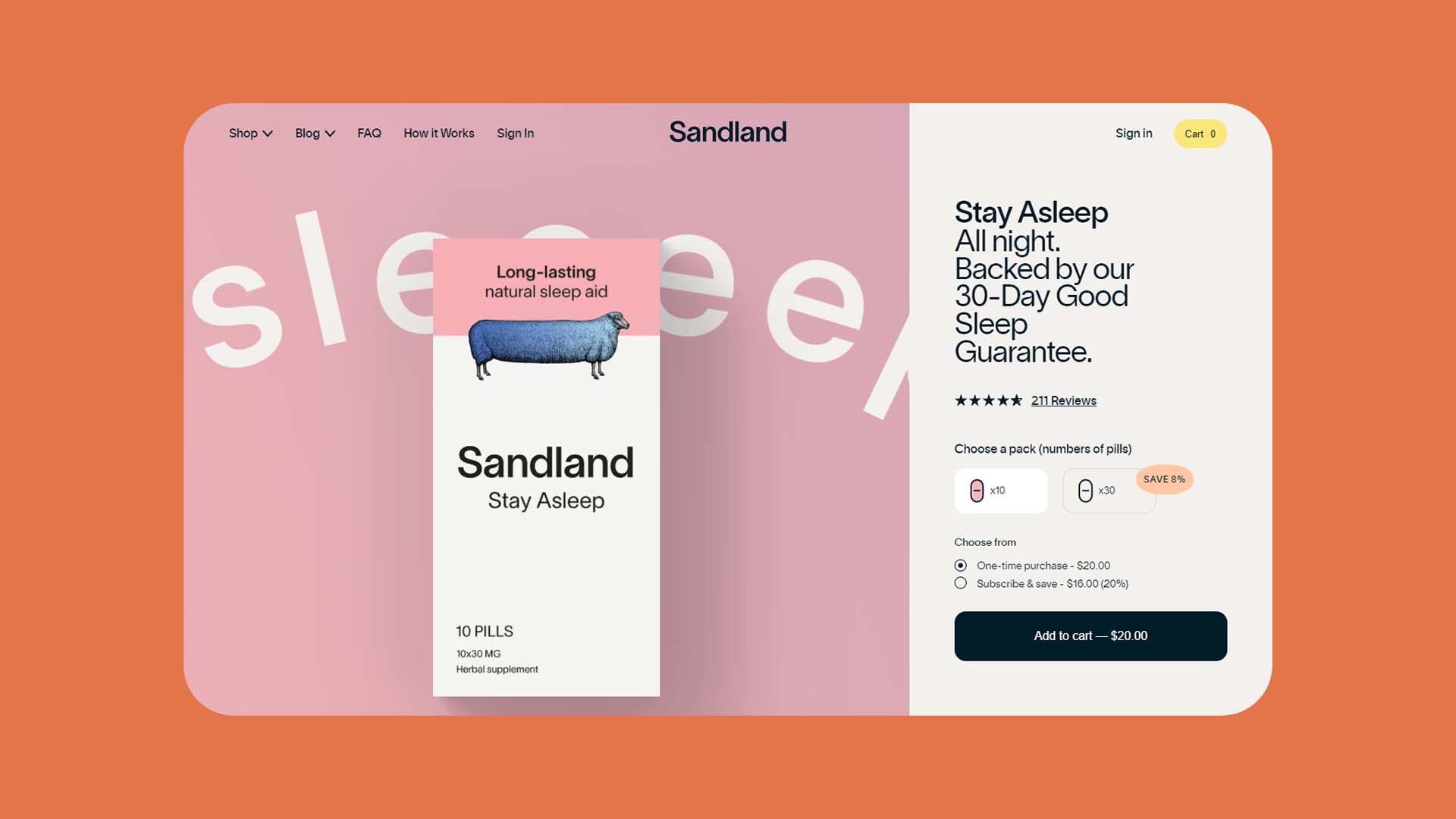 Sandland sleeping supplement product subscription page design
Fatty 15 gives customers the chance to get monthly subscription boxes with their award-winning products without extra shipping charges. There are two options available on their Shopify store; a 90-day Supply Subscription ($119.95), and a 30-day Supply Subscription ($49.95). Their strategic use of neutral colors across their entire website perfectly manages to evoke a sense of peace, calm, wholesomeness, and reliability.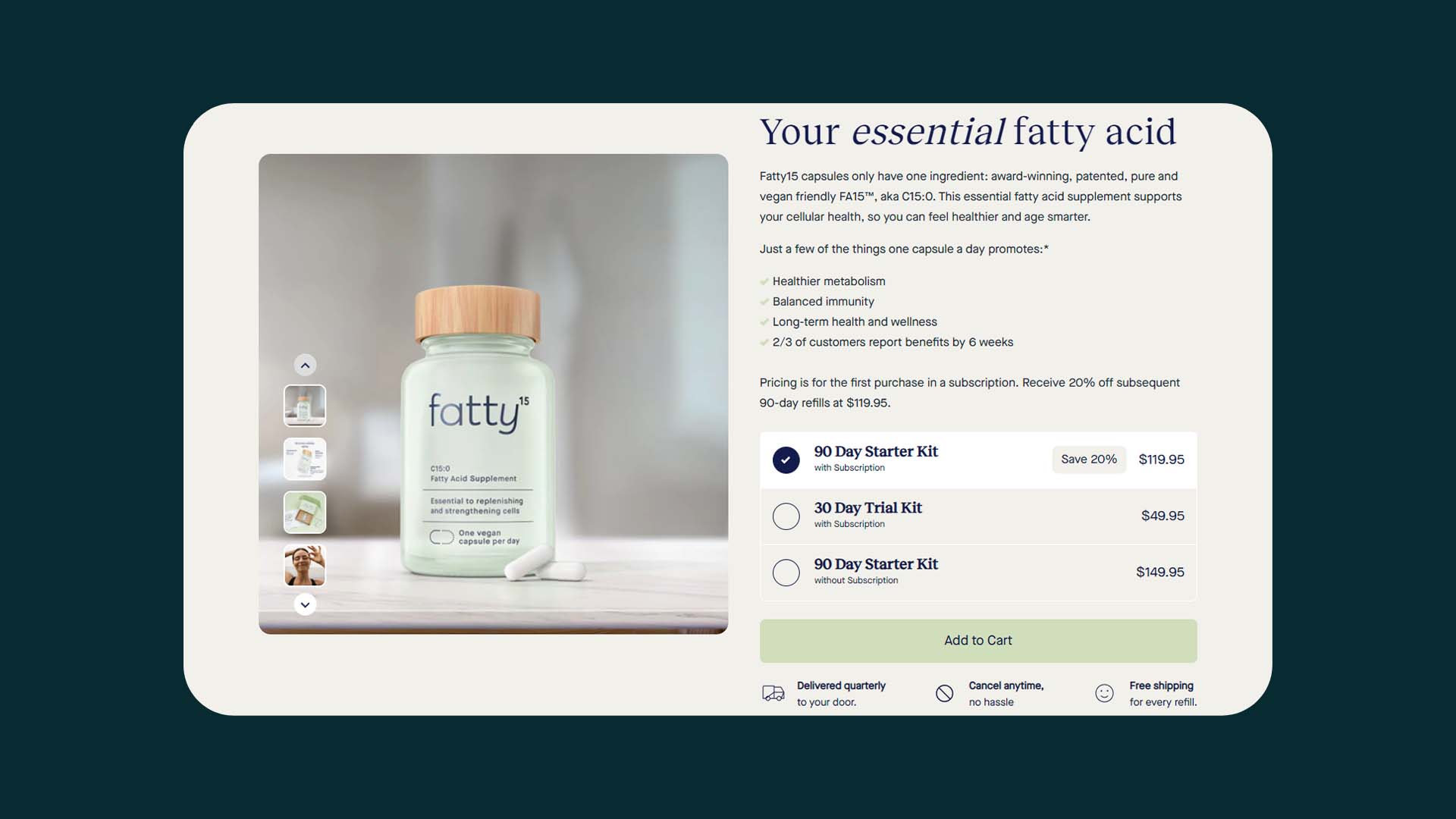 Fatty 15 monthly health supplement subscription page design
Kick start your eCommerce product subscription process for wellness & health today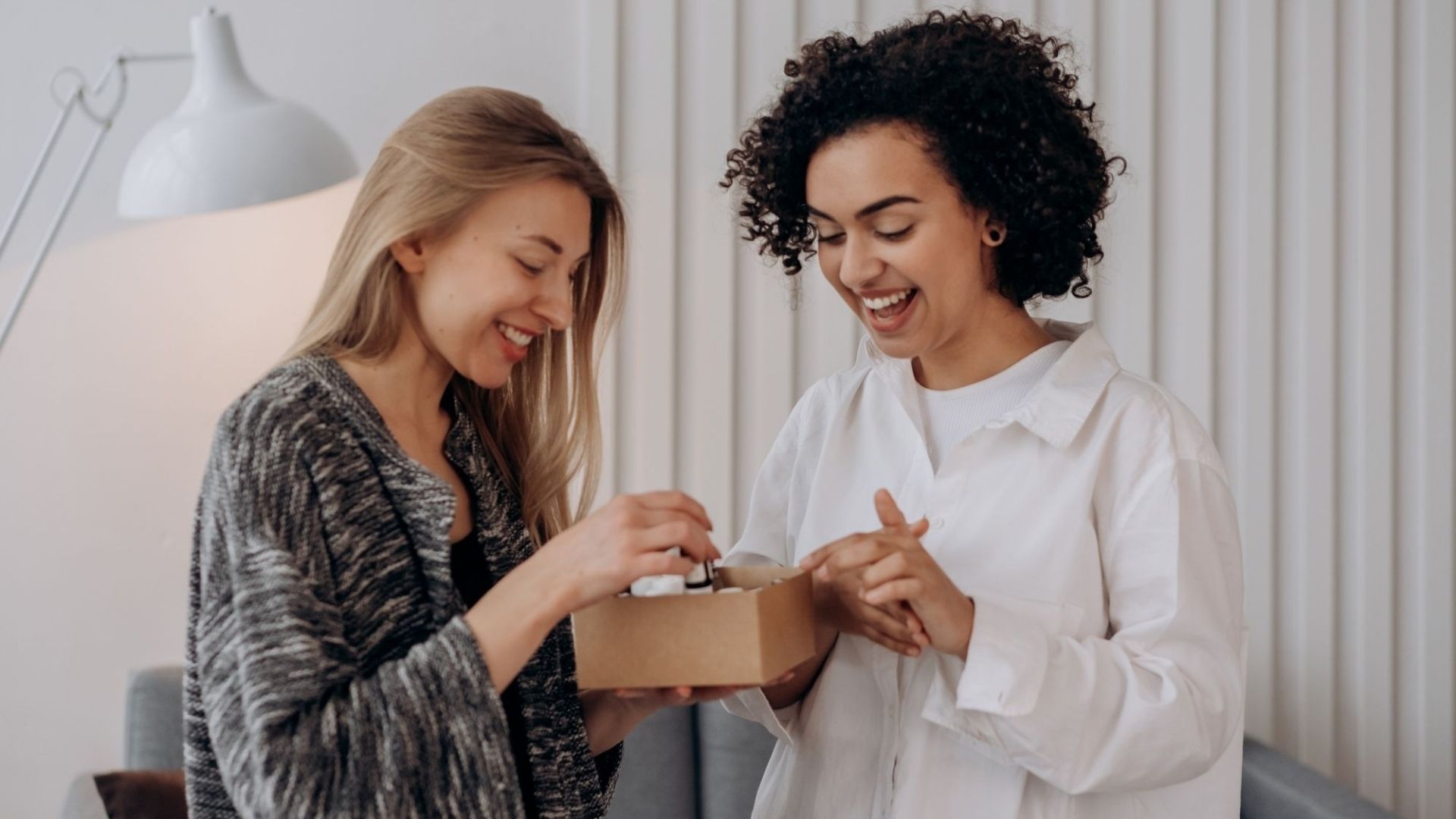 Let the above eCommerce wellness subscription examples be your inspiration to make your business thrive in 2022. If you do decide to add subscription services to your online store, you won't only reinforce your relationship with your existing customers but also get valuable insight into their habits as well as retention rate and sales. eCommerce product subscriptions are the future!