What's a brand strategy and who needs it?
Your business brand strategy is not just your color scheme, logo, and name. As a matter of fact, your brand is so much more than that.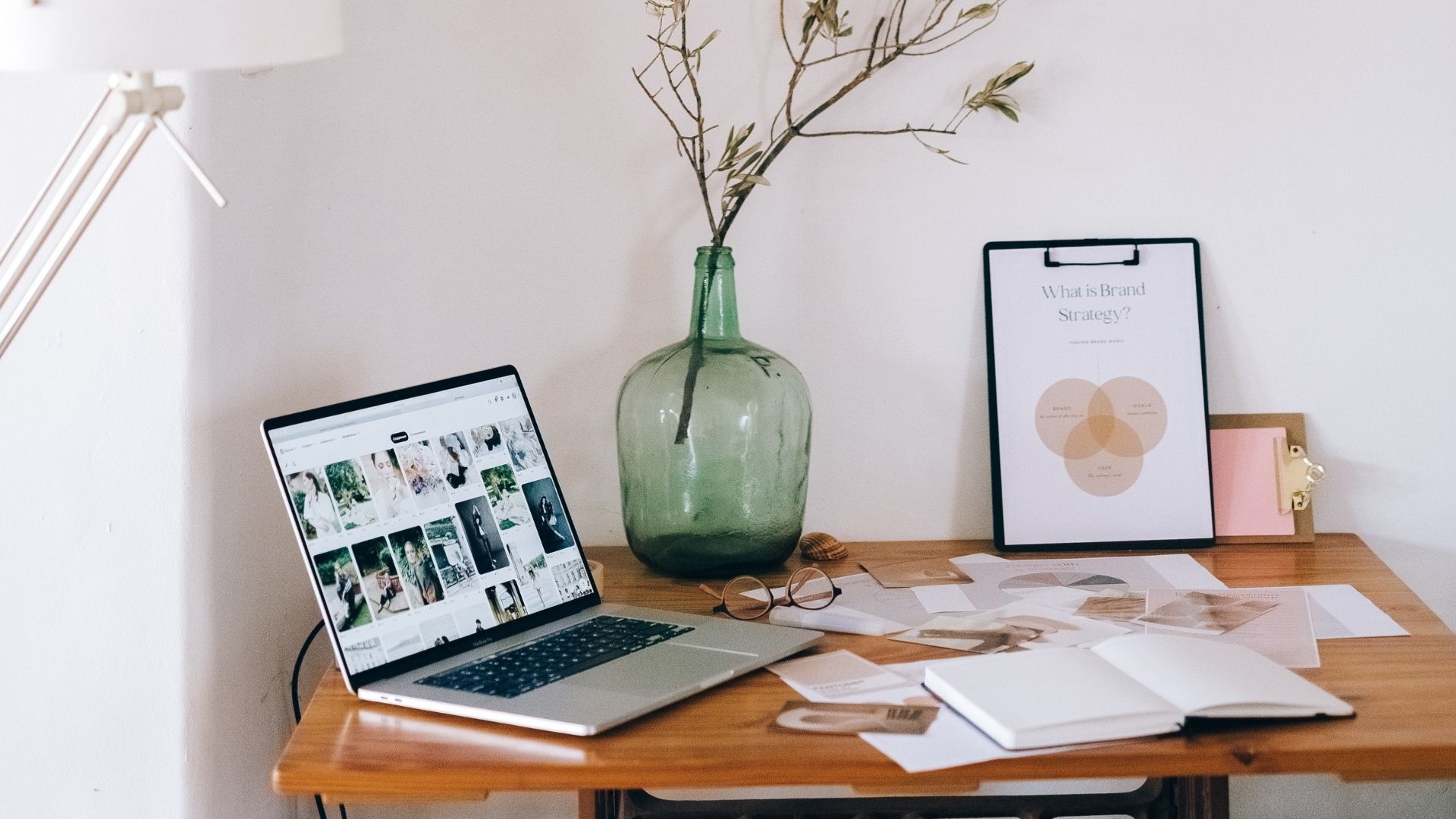 When it comes to having a successful brand strategy, slapping together a to-do list and a beautifully-designed social media feed is certainly not enough. "Can't my products just sell themselves?" we hear you ask. Unfortunately no. Not unless strategic planning is involved.  
So what's a brand strategy ?
Let's first clear up the biggest misconception about having a brand strategy. Your business is not just your color scheme, logo, and name. As a matter of fact, your brand is so much more than that - it's the emotions you manage to convert. It's all about the long-term goals that can be achieved as your brand successfully evolves. Powerhouse brands have a distinctive character that makes them identifiable.   In the business industry brand strategies are everywhere and everything! To put it simply, it's your one-way ticket to building brand awareness, brand equity, and brand sentiment.  
Why brand strategy is important for your business?
Rise above the competition
What is the importance of brand strategies? First and foremost, the internet is kind of a competitive place. Over 627,000 new businesses open each year - some thrive and some fail within the first 12 months. A great long-term business strategy helps distinguish you from your competition and makes you instantly recognizable.  
Target your ideal customers that need what you have to offer
Your brand strategy comes hand in hand with your marketing strategy as well. As soon as you establish the most important elements, you can identify your dream clients and understand all the ways you can engage with them. The more consistent your messages, the more loyal customers your brand will attract. Remember, 61% of people are more likely to buy from companies that deliver unique content (Contently).  
Understand your competitors
Last but certainly not least, a long-term brand strategy will allow you to get a glimpse of what your competitors are doing. Who is currently offering your dream clients the products they want? How did they manage to score the clients you also want to attract?
Yes, there is a pretty good reason why marketers are raving about the importance of having a brand strategy from the get-go. So now, let's explain what a brand strategy includes.
What is included in a brand strategy?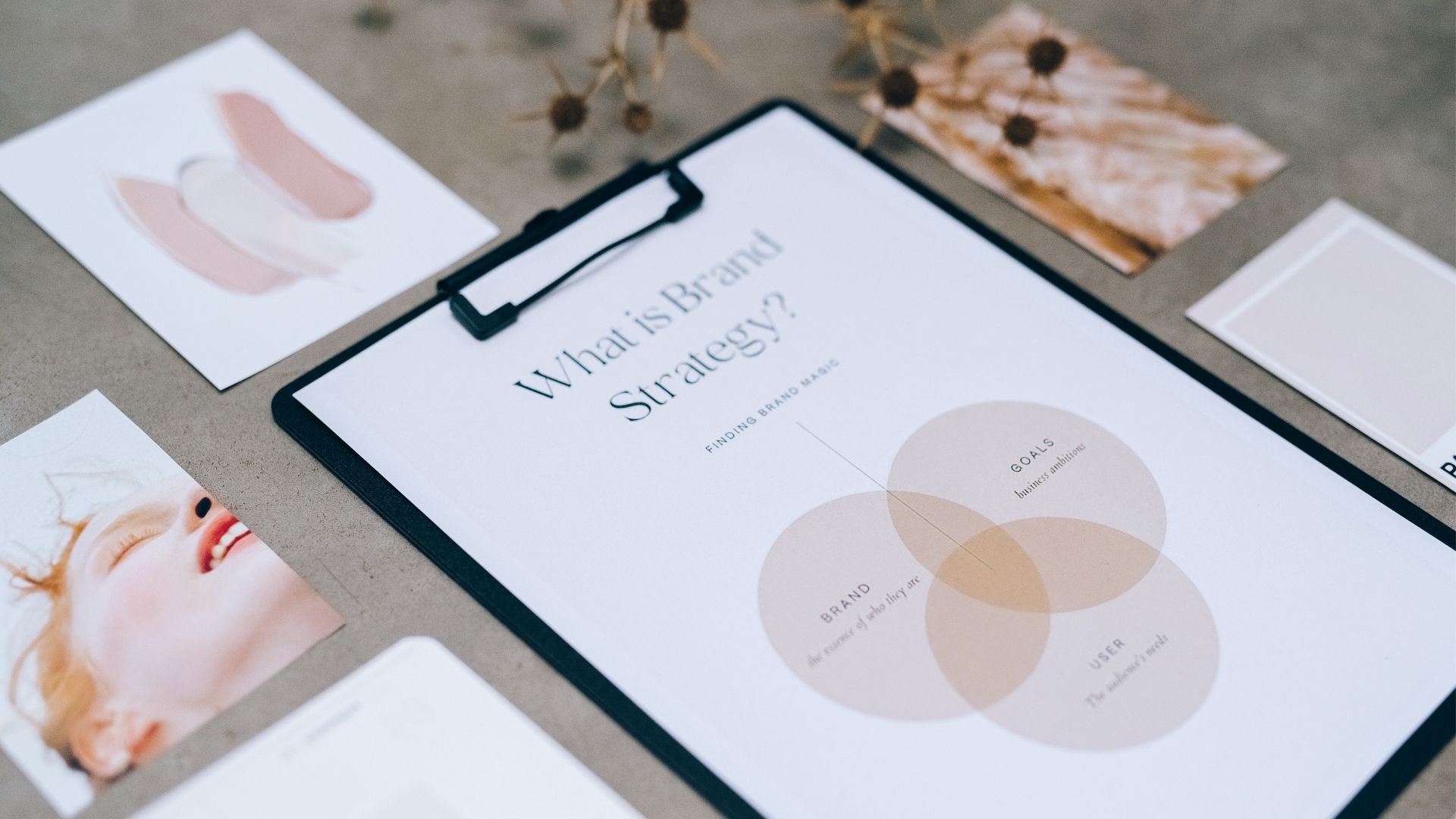 Brand Identity
Just like your own ID, your brand identity is what makes you uniquely you. Think of it as a group of elements that come together to portray the right image to your ideal customers. This includes everything from the visuals, to your brand messaging, on-point copywriting, and the way you express yourself.
When you are thinking of Coca-Cola, Mc Donalds, Pixar, or even IKEA, you are very aware of their brand identity and strong message. In fact, 94% of the world's population recognizes the Coca-Cola logo. The end goal is for your message to resonate with your core audience. Customers feel related to brands that "speak their language".   So take a step back and think of the key elements that make your brand different from the competition.  
Share your mission: Why did you create your business? What's your driving force?
Your values: What are the core beliefs of your brand?
Your brand personality: If your business was a person, how would they be? Serious, friendly, refined, quirky?
Your brand voice: Different personalities have different ways of communicating - and so does your brand
Your position: What is the one (or many) thing/s that separates you from the competition?  
Now that you have a fool proof list of all the things that will make the right customers resonate with you, it's time to translate them into tangible elements that will determine how your brand is perceived. Your logo, packaging, website design, graphics, and images should perfectly align with your brand's personality. As Forbes explained, color improves brand recognition by up to 80%.
Brand standards - Guidelines
Now on the next step, it's time to give your brand internal and external consistency and flexibility. No, we aren't referring to a PDF document with bullet points and hard-to-read terms. The Purpose of Brand Guidelines is to help you maintain your "brand voice" across all digital and physical mediums.
Whether you are working with freelancers or already have an in-house team of employees, your brand identity guidelines will help everyone get a better understanding of your personality, brand purpose, values, attributes, color palette, typography, logo. This way everyone will be on the same boat with a clear vision of how you want to represent your brand.
Here's an example of what to include in your brand's guidelines list  
Logos: different variations including full logos, secondary logos, and icons
Color palette: your standard color scheme of primary and secondary colors
Typography: consistent font style combinations and set sizes
Brand Images: photos, product images, illustrations
Brand Voice and tone: the personality and brand voice you wish to have across all platforms
Brand structure/ Brand architecture
Brand structure (or brand architecture) might sound like a complicated scenario at first. However, for businesses that need hierarchy, this is a very important part of your brand strategy. Basically, brand architecture is the organizational structure of a company's sub-brands that sell different products or services. The purpose of the brand structure is to define the role of each brand, create guidelines, and strengthen the internal relationship.
The most common brand architecture types
Branded House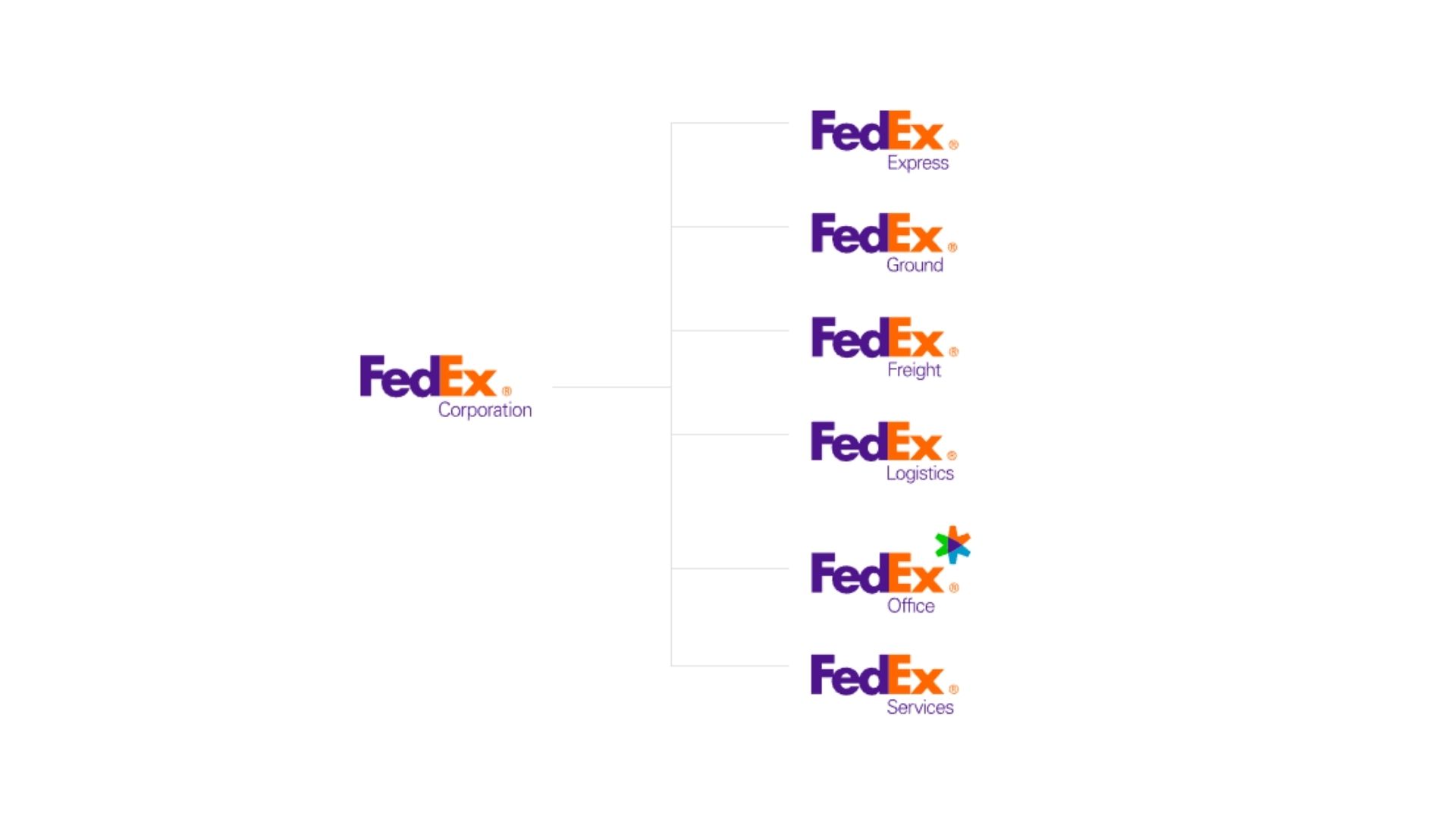 FedEx Corporation business structure
A branded house consists of one strong master brand followed by divisions that also carry the same name with different products and services. In the case of FedEx, we can also find FedEx Express, FedEx Ground, FedEx Freight, and more. Some additional examples are Harley Davidson's and Apple's brand house structures.  
House of Brands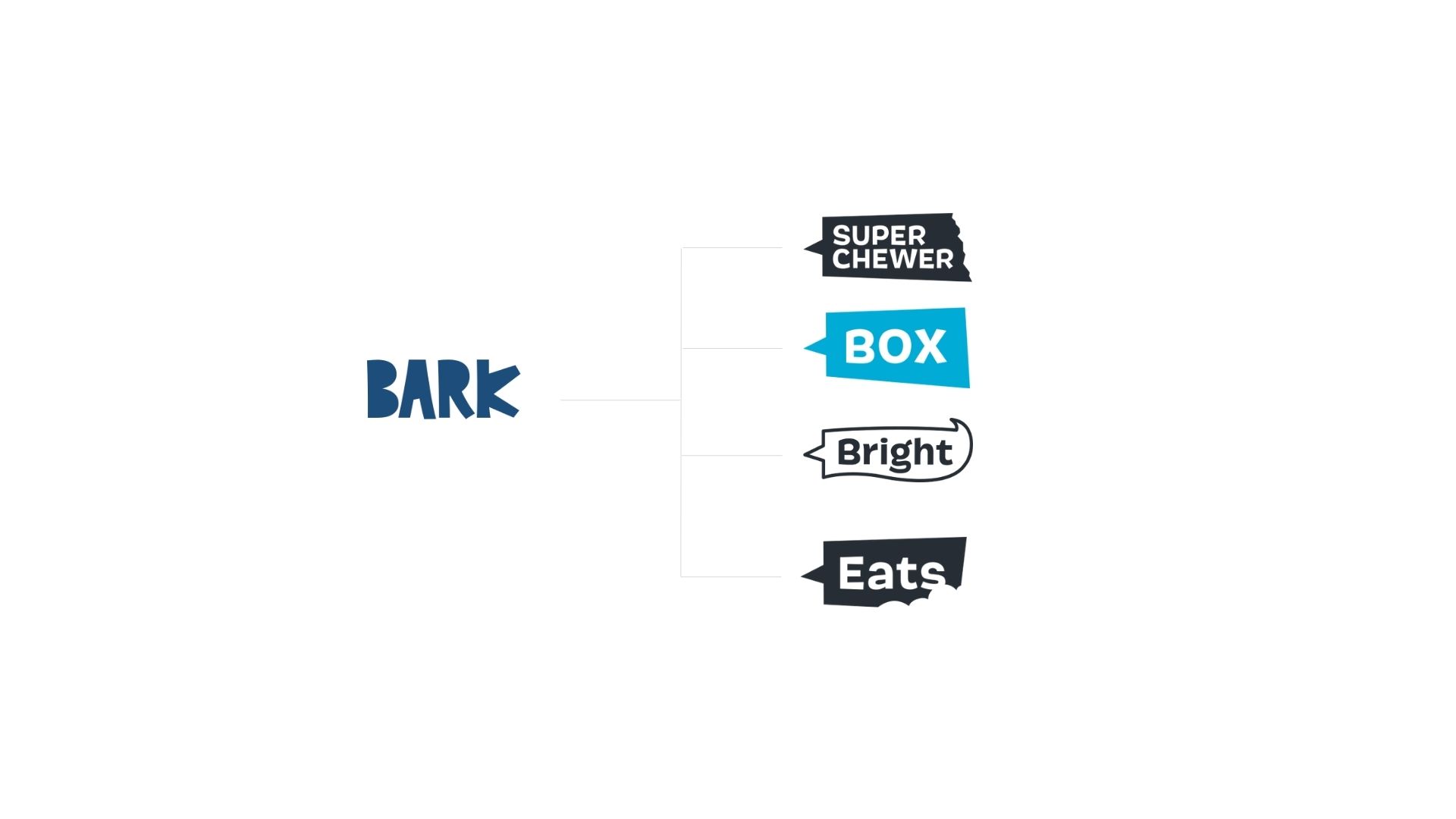 Bark Brand – eCommerce products for dogs
A house of brands architecture usually consists of an array of familiar brands that fall under the same parent brand and usually endorse each other. In this case, customers may not be aware of their connection at all. A great example of this brand structure would be Bark Box, Super Chewer, Bright, Eats.  
Endorsed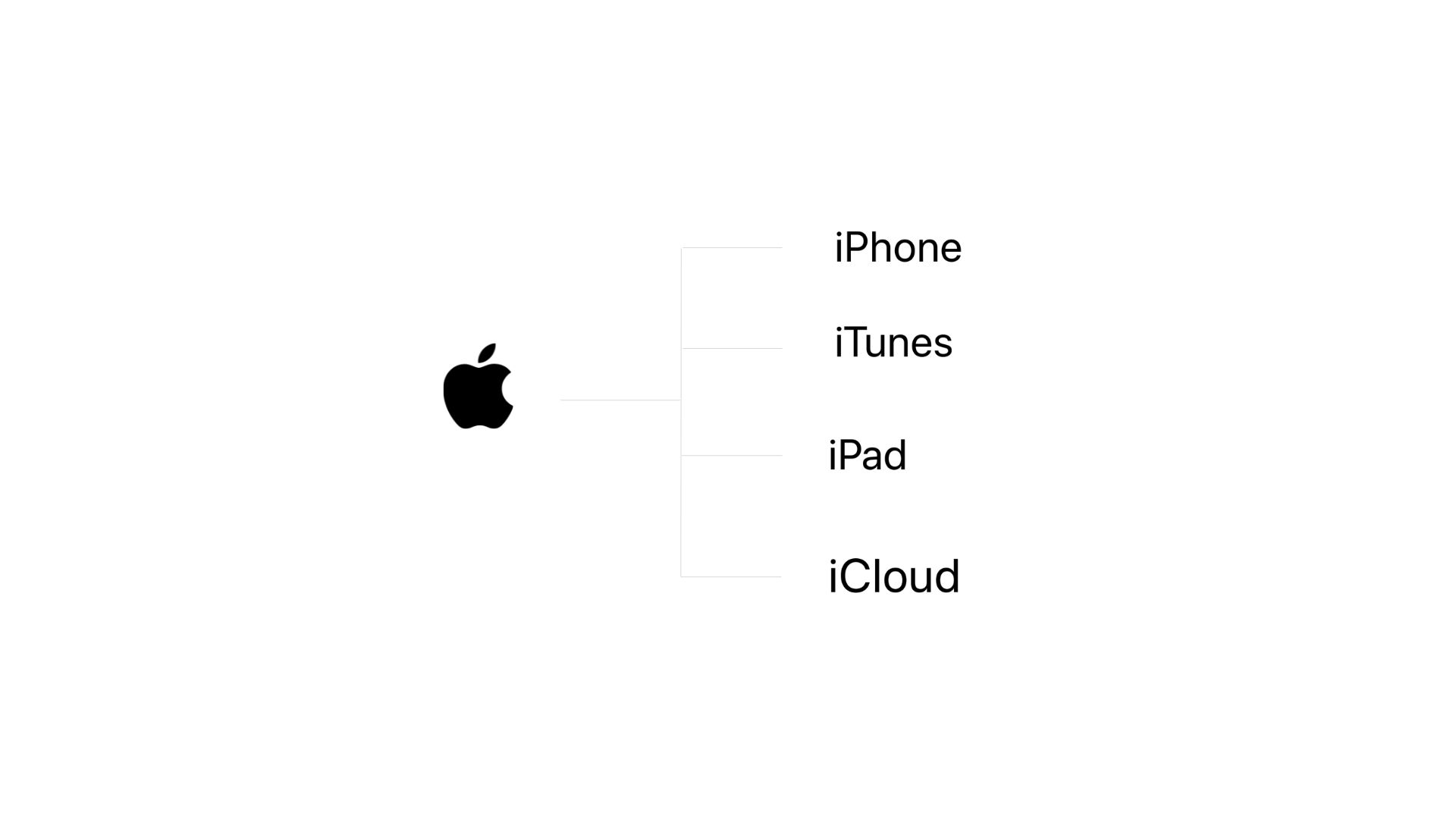 Apple business structure
In an endorsed architecture, we can see a parent brand and many more "sibling" brands that all have a distinctive marketing presence. An example is Apple. Which features the name of the parent brand on their packaging.  
Hybrid
In the case of hybrid brand architecture, we have a combination of the above structures. A great example is Coca-Cola, Volkswagen, and Amazon.
Brand strategy is the ultimate weapon for success
It's evident that a successful brand strategy can take a brand to new heights. Remember, the goal of brand identity, brand guidelines and architecture isn't simply to help you brainstorm on catchy names and titles for your services.
It's a great way to create an impactful business, target the right audience that needs what you have to offer, and take leave a long-lasting impression. At the end of the day, your brand strategy will work as a 24/7 salesman with your best interest in mind.