CBD Beverage Web Design Ideas| 6 Hemp Drink Website Examples
Best CBD website design ideas for your hemp-infused beverage brand. Here are the top CBD drink website examples for 2022.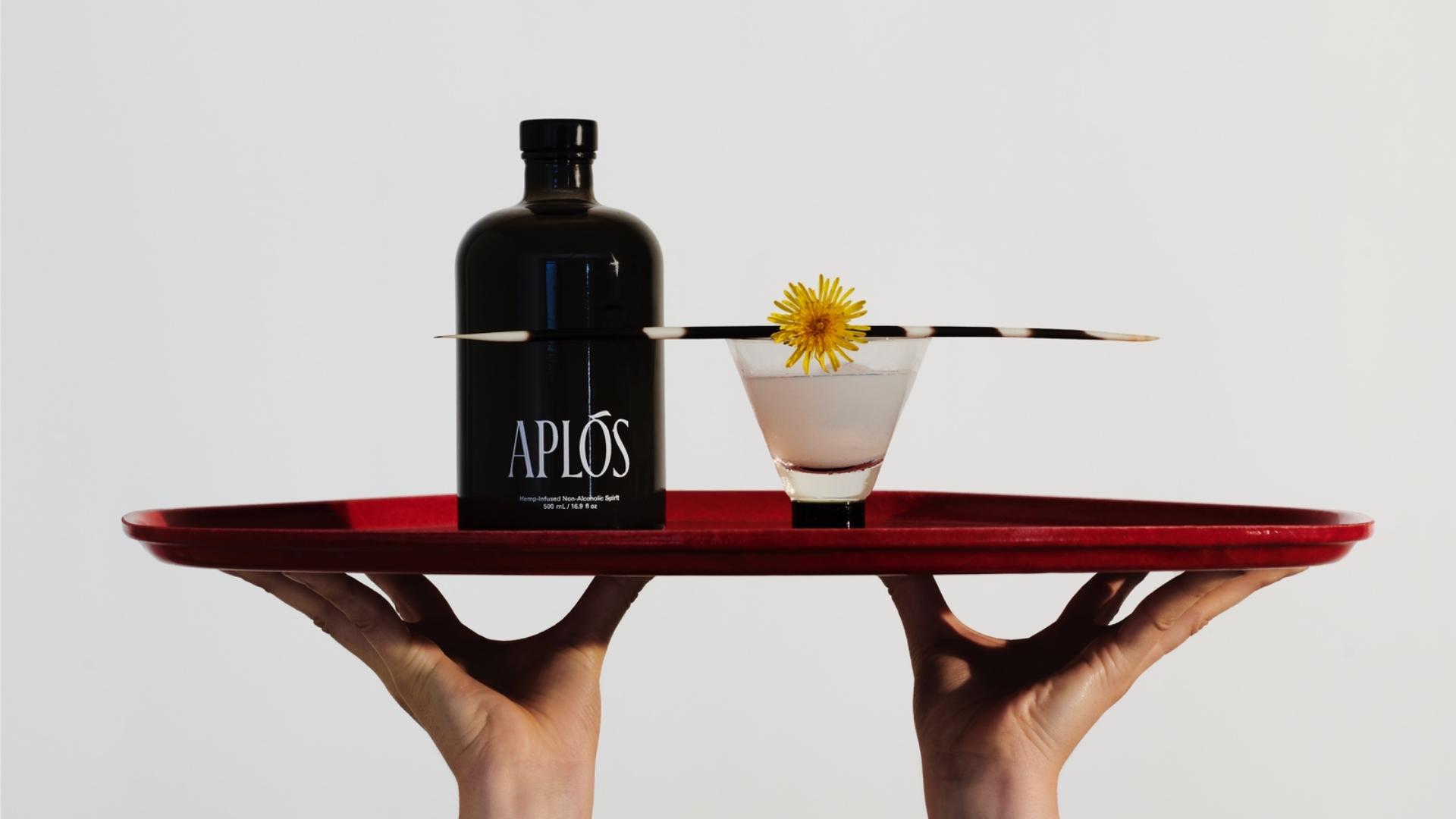 If you are eager to start your own hemp infused beverage brand with a conversion-ready CBD website design, you are in luck. While many skeptics used to argue that the hype around CBD products was destined to be short-term, the industry definitely proved them wrong.
In 2022, the reported therapeutic and health benefits of CBD continue to give a quiver of excitement to wellness aficionados. In fact, this lucrative business is only growing stronger by the year. Evidently, a strategically-made CBD beverage website will help you capitalize on the expected annual growth rate of 16.8% from 2022 to 2030.
However, with rapid success comes massive competition. That's exactly why you need to have a hemp drink website design that not only stands out from the crowd but also provokes potential clients to hit the checkout button.
So before you start working with a skilled website developer to give your products a new e-home, let's have a look at some of the best CBD drink website ideas from brands that are currently nailing the hemp game.
Your CBD website design's true potential: The Growth of D2C CBD Brands and eCommerce
How big is the financial potential of owning a hemp infused beverage brand, we hear you ask? The CBD industry is projected to hit $20 billion in sales by 2024. In the US alone, eCommerce sales through CBD beverage websites are forecast to increase from approximately two billion U.S. dollars in 2021 to more than six billion U.S. dollars by 2026.
Europe does not fall behind. Grand View Analysis mentioned that the European CBD market is set to rise by 400%. That makes it the second-largest market after North America. Germany and the UK are the biggest players in the hemp game followed by Switzerland and Austria.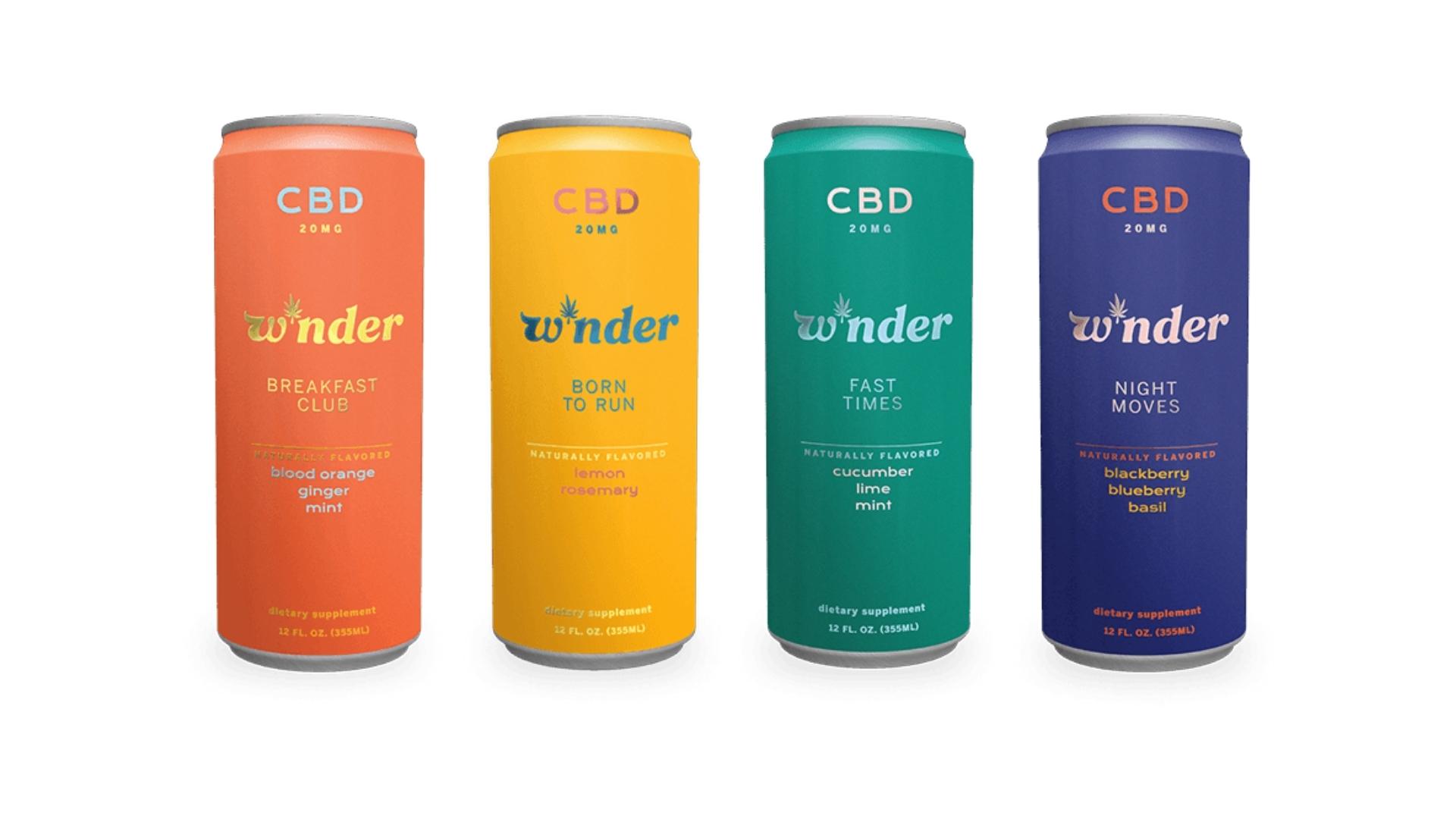 Wnder CBD beverages.
What do all of these hemp infused beverage brands have in common? A fantastic CBD website design that follows UX and UI's best practices, a strong brand identity, and a powerful brand strategy that continues to bring new leads on autopilot.   Below is the best hemp drink website design inspiration for you to help you build an online CBD eCommerce store in 2022.
Top 6 Hemp Infused Brand Names that made their website design right
W*nder's modern and energetic CBD website design is bold, bright, and very eye-catching. Each section includes animated images and text to convey the most important information. They emphasize the fact that they have partnered with Green Scientific Labs to ensure the quality and transparency of their products - which is a fantastic way to build trust.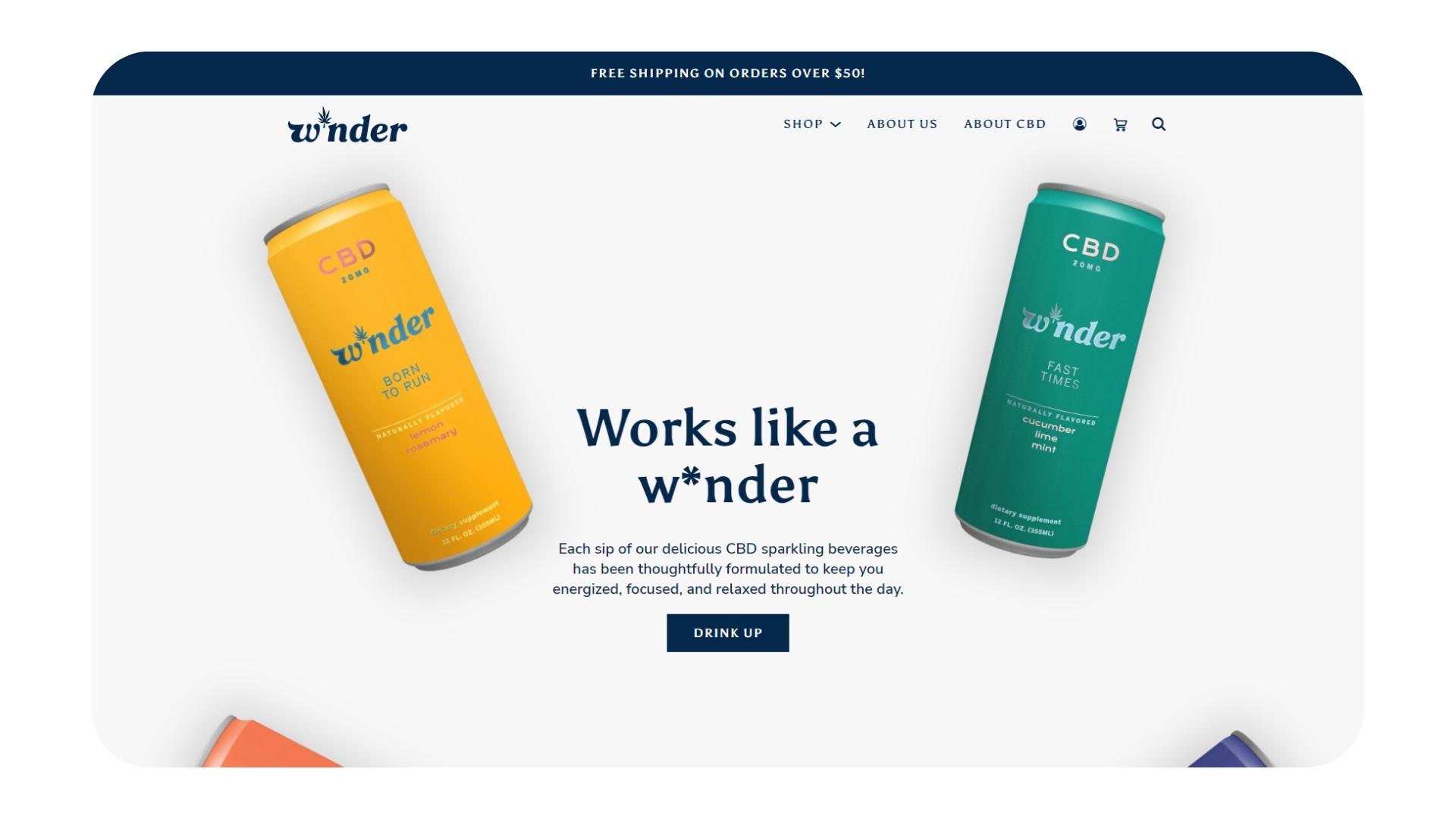 Close to the footer of the CBD website design, customers can learn more about the Refer & earn program followed by their mission statement to help people who got affected by the prohibition of cannabis. Their main menu is simplistic with only 3 categories which makes the entire navigation process a breeze.
Wunder's hemp drink website design taps into the world of color psychology to create a virtual presentation of their brand identity. The ample use of green, red, orange, and pink evokes strong emotions. Green is the universal color of growth while orange is associated with optimism.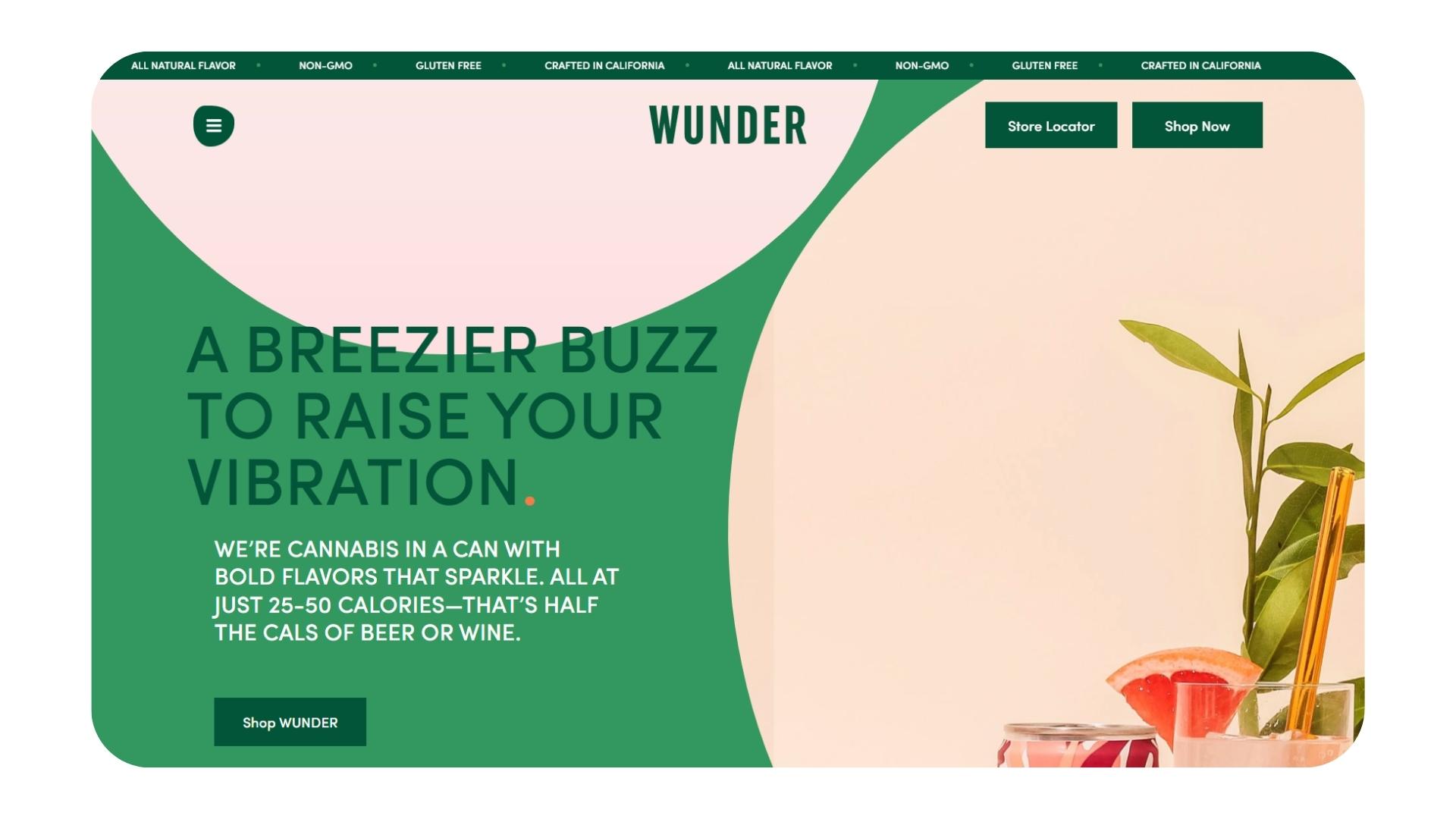 The brand wants us to consider their CBD drinks as a refreshing, take-me-everywhere beverage free from taboos hence the modern packaging. Their CBD website design highlights their brick-and-mortar locations that sell their award-winning flavors while also inspiring potential customers to learn more about the benefits of delta-8 THC.
Aplos is a luxury hemp infused beverage brand that introduced a natural way to unwind with a citrus flavor made from pure botanical extracts. The single-product CBD website design is very aesthetic with a clear high-end vibe from the banner video to the strategic use of font combinations.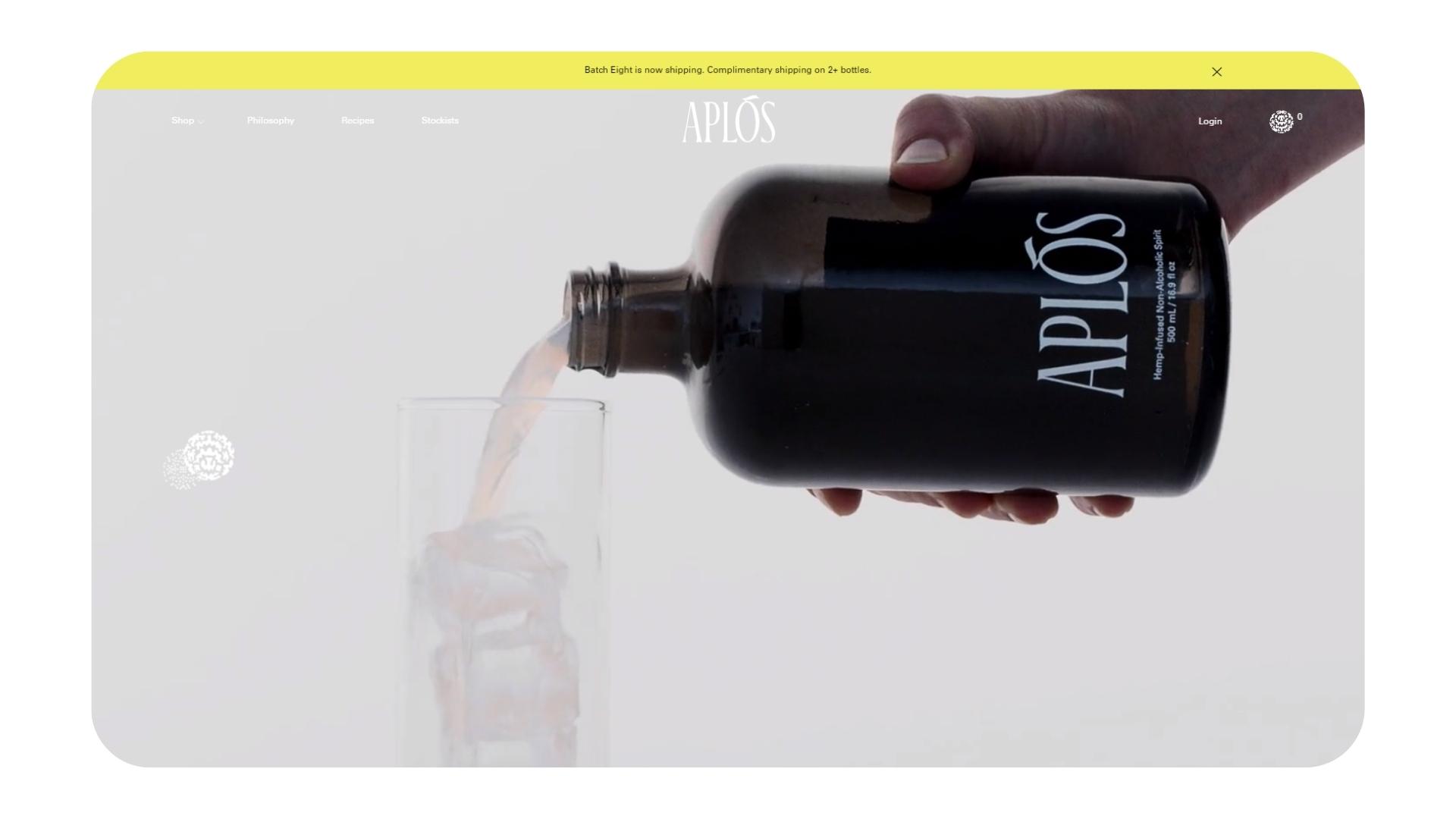 The brand showcases the latest magazine features right under the product presentation and plenty of customer reviews. Also, customers can enjoy monthly deliveries through Aplos' product subscription service.
As soon as you land on VYBES' CBD drink website, you get presented with their newest delicious flavors for the season and a call-to-action button. Right above the first section, customers can access their two product categories (tonics and CBD) to discover the sparkling mood enhancer drinks or a slew of different CBD flavors.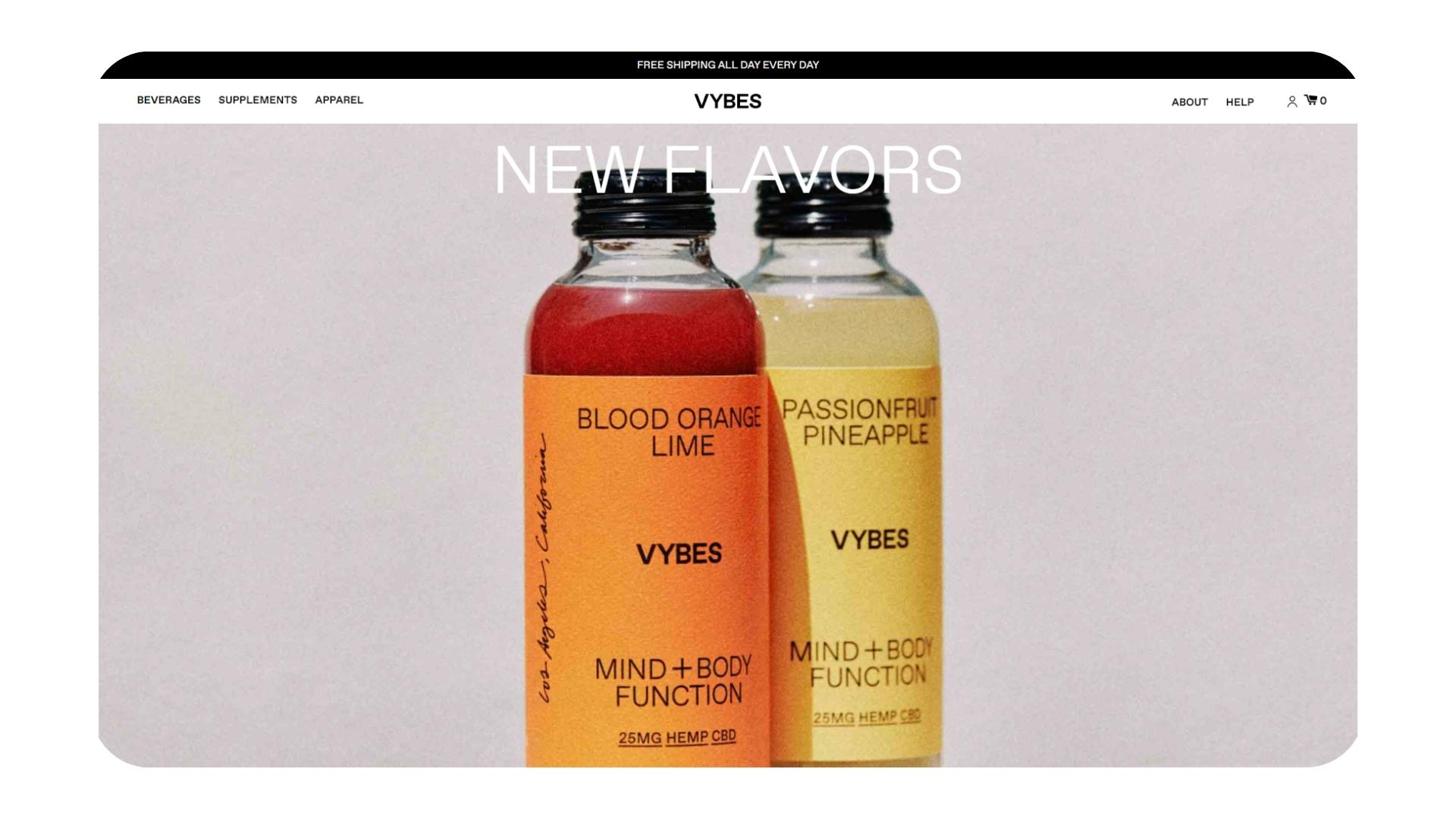 The hemp infused beverage brand is very transparent with its ingredients with a full-width section followed by another product section that highlights the supplements. From the main menu, you can navigate their different sections. Overall, the hemp drink website design is clean, minimalistic, and very easy to navigate.
Recess' CBD drink website caters to women with a curiosity to explore the numerous benefits of CBD including treating chronic pain, anxiety, inflammation, and insomnia. The hemp drink website design is highly interactive with elements that evoke feelings of calmness and relaxation.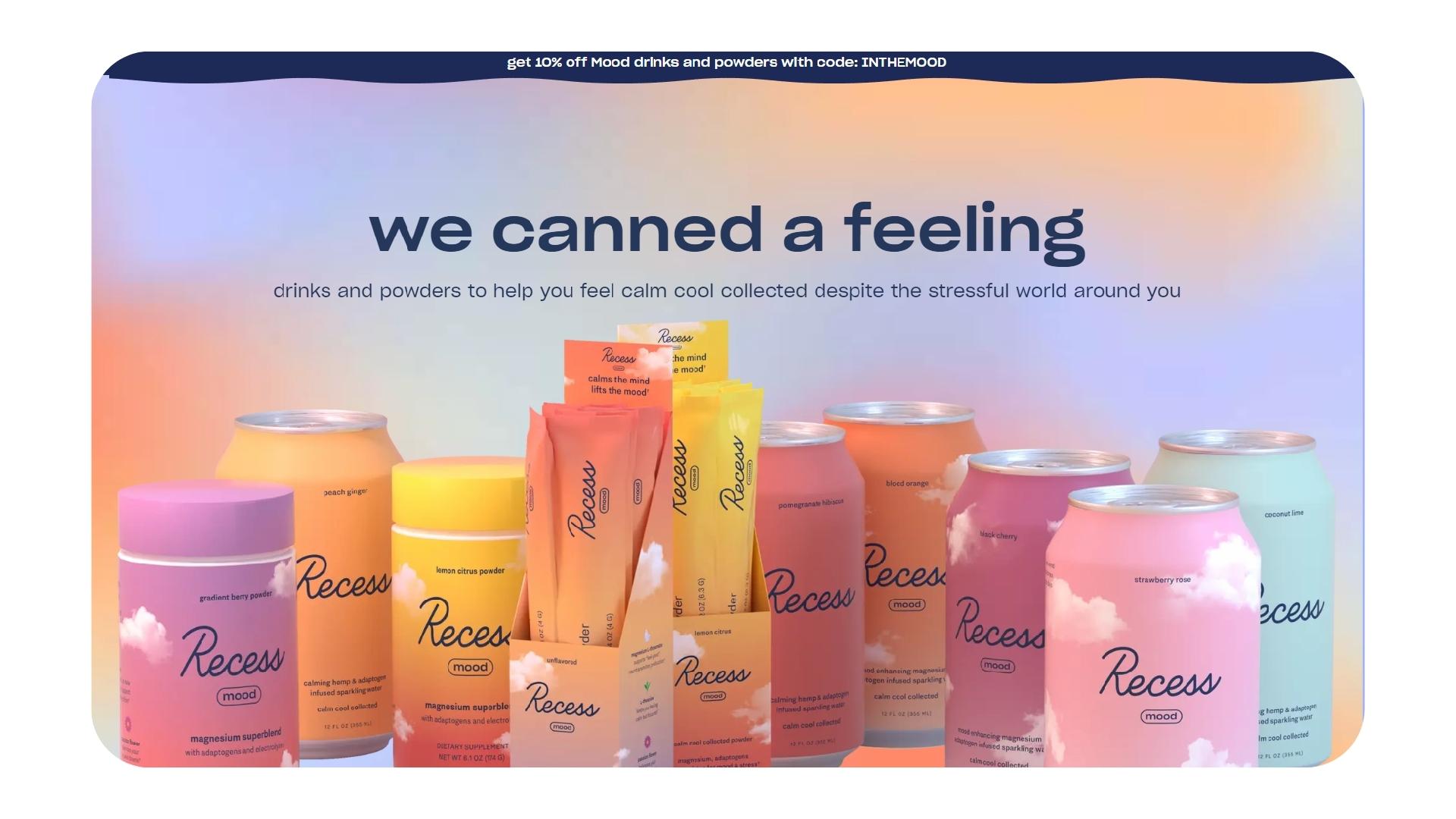 Their product pages follow the same playful theme and color palette while also explaining their top-notch, plant-based ingredients. You can find quotes from magazine features and take advantage of their referral program.
To top it all off, the hemp infused beverage brand also has a subscription service with a pretty good discount. The menu seems pretty minimalist at first, but upon clicking, you'll get presented with all the most important categories including products, ingredients, and shopping locations.
Dermapothecary has a very simple yet attention-grabbing CBD drink website that focuses on displaying their many product categories. Right below their banner image, you can find direct links to their CBD drops, sparkling water, and beauty oils that are backed with dozens of reviews.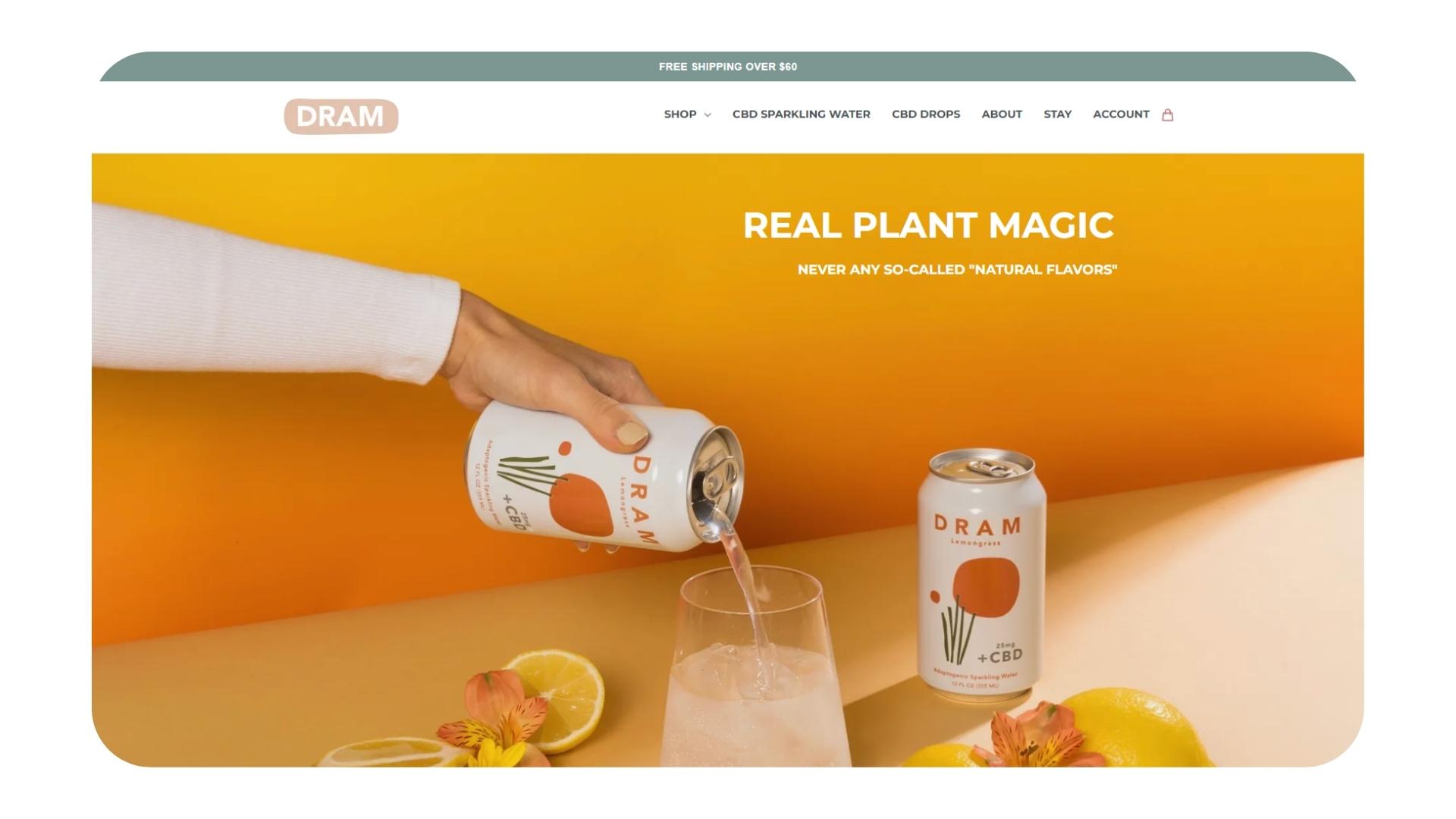 Their about page at the top of their CBD website design answers the most frequently asked questions about the company and the products (including store locations, ingredients, and sustainable business practices).
While they don't own a brick-and-mortar store, their packaging was designed to look amazing both online and IRL with the best packaging trends of 2022 in mind. What makes this hemp infused beverage brand different is their "stay" section which allows customers to book a 5-bed 6-bath Farmhouse.
Finding a CBD Website Design Company
By now, you probably have an idea of how to create a hemp drink website design that's not only user-friendly but also focused on your brand identity. But if you haven't contacted a CBD Website Design Company before, the entire process might feel a bit overwhelming.
Your number one priority should be to find the best creative studio or agency to work collaboratively on your CBD website design. Skilled professionals have a deep understanding of the importance of brand strategy and how to use UX and UI to your advantage. We previously established how competitive the industry is.
By developing a custom hemp drink website design, you'll quickly be able to differentiate your brand in a highly saturated market when most start-up CBD companies go for fast and basic template layouts.
At the end of the day, your products are nothing close to uninspired, so why settle for a less than professional CBD drink website?
Conclusion: CBD website design ideas for your hemp-infused beverage brand
To conclude, your hemp infused beverage brand definitely has big potential to grow and expand online with the help of a striking CBD website design that caters to the needs of your ideal customers. In reality, eCommerce Website Structure is crucial to your company's success. Thus, it's best to work together with a professional website developer to create a digital space for your products and brand identity to shine.
At the end of the day, the best hemp drink website design should reflect you, your brand personality and aesthetic while "speaking" directly to customers who absolutely need what you have to offer.